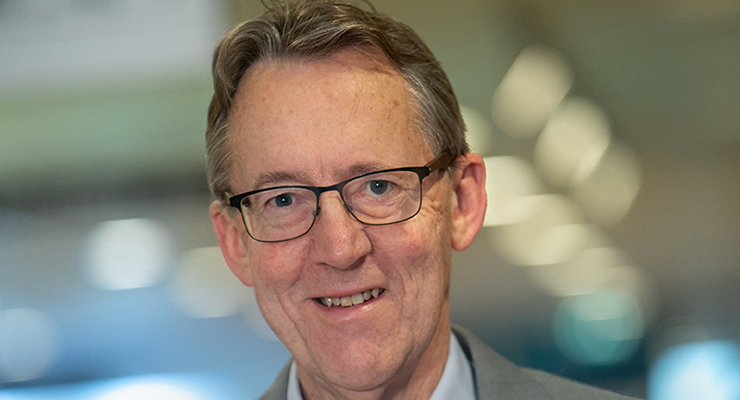 Jan van den Ende is Professor of Management of Technology and Innovation at the Rotterdam School of Management, Erasmus University (RSM). He's also Professor of Horticultural Innovation. In the sector he's a sought-after speaker on innovation, and regularly discusses 'servitization'. Servitization is a company's transformation from product orientation to a service-oriented business model. As Blue Radix is a major proponent of the service-oriented model, we interviewed Jan on his vision for greenhouse horticulture from an innovation perspective.
What important developments do you envisage in greenhouse horticulture innovation?
"A significant development is the application of new IT (Industry 4.0) techniques, e.g. the use of sensors and possibilities for assigning products a unique ID. Exchanging information in the chain is a major IT value for the sector, not simply for optimizing processes in the individual horticultural company. It's also possible to establish connections between market parties and consumers and growers across the chain, for example by assigning a product a QR code. That's possible with some products. The end-consumer then has access to more information on the product – not just on sustainability, but also about the actual experience. Where, how and by whom was it grown? Which part of the world does this plant originally come from? That lets consumers bond with the product. All this is becoming increasingly easier. The grower can also get more information about the consumers through this connection, on what they find appealing and what they need. Another development is cultivation support with smart AI applications."
Jan believes that the market for this lies mainly outside the Netherlands, where less horticultural knowledge is available. "The knowledge available in the Netherlands grants us a leading position on the world stage. Together we know how to integrate that knowledge into systems. Of course it all has to work. If it's used a lot, unprecedented learning effects arise to make AI applications better and better.
"Data platforms are also a development we have seen emerging increasingly in recent years. Of course the technology is not new, and it's already far more obvious in other sectors. But the development where suppliers move forward and offer a service package for growers is both new and powerful. We are talking here about 'servitization', an innovation for the sector. In essence it's a switch from products to services. What is significant here is that it's particularly product companies which are embracing this, and from within. That represents a huge change for these firms, because they're used to delivering products (one-time transactions). Now they have to start maintaining permanent relationships with customers. They're shifting to new revenue models with services, and this is an evolution which could really accelerate."
How do you view horticulture's ability to embrace new technologies, compared to other sectors?
"The responses vary. Some think it's going very slowly and others believe it's a very innovative sector." Jan offers his own view: "Growers aren't going to invest in new technologies that are still too far away in terms of maturity. Long-term developments are more likely to be taken up by knowledge institutions, like universities. Many growers are more likely to wait and see what happens over the longer term. If growers think something can deliver value sooner, they'll move forward quickly and decisively. That's when things get a shake-up. Horticulture is indeed interesting and innovative, but this often has to be explained to students, for instance. This sector isn't the first one that comes to mind for students. When contemplating their first jobs, they tend to think of companies with trendy products, like Nike. But they can become very interested once I point out the unique position of Dutch horticulture."
What are the biggest challenges facing the horticultural sector over the next five years or so?
"The Netherlands must remain at the forefront internationally. That's exciting, because companies abroad are also moving forward strongly. Governments and entrepreneurs there also believe in the importance of improving food production in terms of quantity and quality. I don't really know whether we can maintain that lead in all areas. But we can indeed build and maintain a lead in technologies such as climate computers and autonomous growing. That's because we have the knowledge, and we're also able to translate it into smart solutions."
Jan believes it may be a little more difficult to stay in front when it comes to the physical construction of greenhouses. "These are physical components that can be replicated relatively easily, after all. So I believe servitization by greenhouse builders is important in remaining relevant in all sorts of areas."
What issues are holding back the industry from accelerating and staying ahead of global competition?
"The pace of development is fairly slow, for instance, the development of data platforms. That market is only developing at a measured pace. You have to be careful not to be outrun by others who are introducing these types of services far faster.
"The capital needed is also entering the market. The question is what that will mean for innovation, especially over time. On the one hand the industry may become more dynamic. Funds/investors merge companies more easily than a family business does. But on the other hand they tend to focus on the shorter term. What does that mean for longer-term innovation? The government currently funds the work of universities. This is focused on the longer term, but it also needs to be taken to the market. That doesn't happen enough. It's important that someone jumps into this gap. And who will bridge the gap between short and long term innovation?"
What tip do would you pass on to Blue Radix?
"Define your distinctiveness well. Established companies have the advantage of their existing customer contacts and data. You, on the other hand, have the advantage of flexibility. Exploit your flexibility as a relatively young company. You hold a great position, but the field of AI is evolving fast. Perhaps consider further specialization in regions, segments or functionalities."