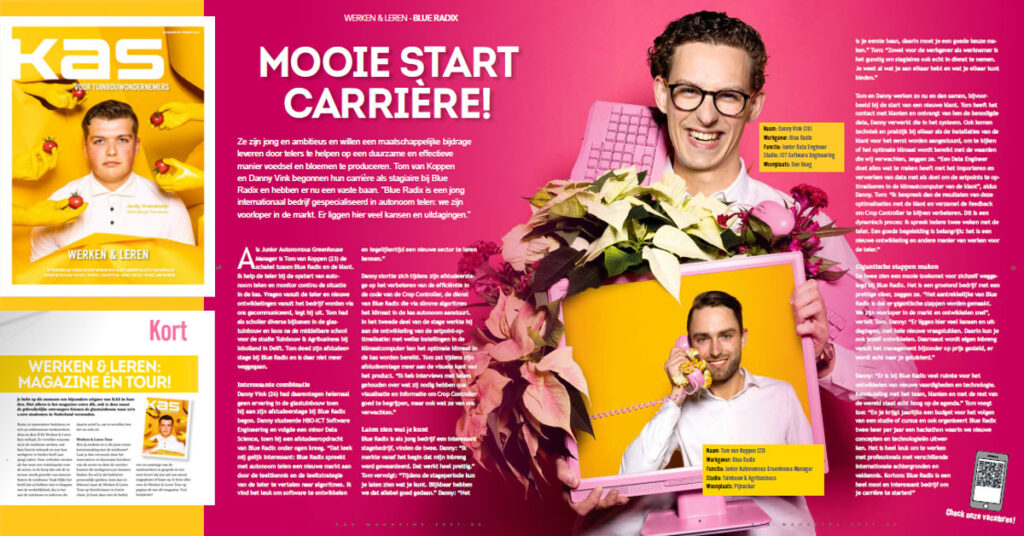 In a special December edition of KAS Magazine with the theme working & learning, 42 employees from the Dutch horticulture sector talk about their work, ambitions and the importance of education. Tom and Danny of Blue Radix are also interviewed in the magazine as they started as trainees at Blue Radix and are now employees. They explain more about their internship, jobs, the great start of their careers at our company and also about the learning opportunities. Read the article below.
They're young and ambitious and want to make a social contribution by helping growers produce food and flowers sustainably and effectively. Tom van Koppen and Danny Vink began their careers as interns at Blue Radix, and now hold permanent jobs there. "Blue Radix is a young and international company specializing in autonomous growing: we're at the forefront of the market. There are so many opportunities and challenges here."
As a Junior Autonomous Greenhouse Manager, Tom van Koppen (23) is the link between Blue Radix and the customer. "I help growers to get started with autonomous growing, and I monitor the situation in the greenhouse continuously. Questions from the grower and new developments from the company are communicated through us," he explains. Tom had several greenhouse jobs as a student, and after high school he chose to study Horticulture & Agribusiness at Inholland in Delft in the Netherlands. Tom spent his graduation internship at Blue Radix, and never left.
Interesting combination
During his graduate internship, Danny threw himself into improving the code efficiency of Crop Controller, Blue Radix's service that uses smart algorithms to control the greenhouse climate autonomously. In the second phase of his internship he worked on the development of setpoint optimization: the climate computer settings which can achieve the optimal greenhouse climate. Tom focused more on the visual side of the product during his internship. "I conducted interviews with growers on what they need in terms of visualization and information to understand Crop Controller properly, but also to determine what they expect from us."
Showing what you can do
Both agree that as a young firm, Blue Radix is an attractive internship company. Danny: "I noticed from the start that my input was appreciated. That's a very satisfying feeling." Tom adds: "You can show what you can do during the internship period. Apparently we both did that well." Danny: "As it's your first job, you really need to make a good choice." Tom: "It's actually beneficial to both the employer and employee, to hire interns. You already know what you have in common and what you can offer each other."
Tom and Danny occasionally work together, for example when starting with a new customer. Tom gets in touch with the customers and gets the data needed from them, and Danny processes this in the system. Engineering and practice also come together when the customer's installations are controlled for the first time, to see whether the optimum climate is achieved with the values we expect, they point out. "A Data Engineer does everything related to importing and processing data with the goal of optimizing the setpoints in the customer's climate computer," Danny explains. Tom: "I then discuss the results of these optimizations with the customer and collect the feedback to continue improving Crop Controller. This is a dynamic process; I talk with the grower every two weeks. Good guidance and support is important; this is a new development and different way of working for the grower, after all."

Making giant steps
The two envisage a bright future for themselves at Blue Radix. It's a growing company with a pleasant atmosphere, they say. "The appeal of Blue Radix is that giant steps are being made. We're a front-runner in the market and develop quickly," notes Tom. Danny: "There are so many opportunities and challenges here, with entirely new issues. This is also an area where you can develop personally. And the management's own input is greatly appreciated; they really do listen to you."
Lots of developmental room
Danny: "There's plenty of room at Blue Radix for developing new skills and technology. Sharing knowledge with the team, customers and the rest of the world is really a high priority." Adds Tom: "You also get an annual budget to attend a study or course, while twice a year Blue Radix organizes a hackathon where we work out new concepts and technologies. It's a lot of fun to work with professionals with different international backgrounds and expertise. In short: Blue Radix really is a great and interesting company for starting your career!"