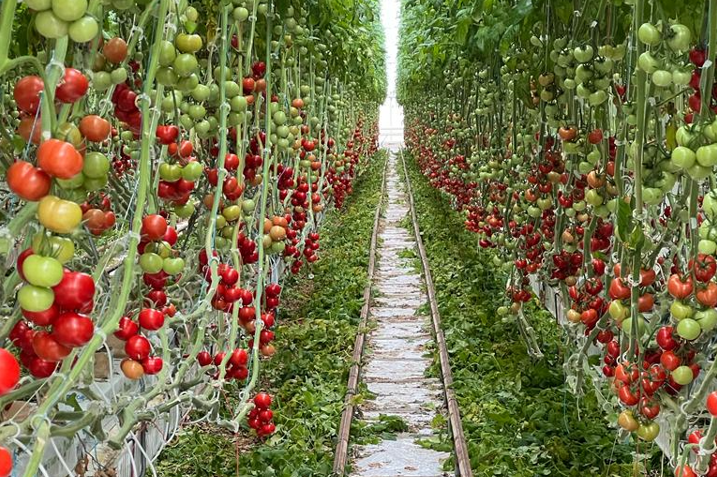 This week GreenTech published an article in which they interviewed two growers from Mexico and one from the US to talk about the developments that they believe will have the most impact in the coming years. Arie van der Giessen, Vice president and Regional Facility manager of Village Farms Fresh talks about his experience on Autonomous Growing with Crop Controller.
Village Farms Fresh: Autonomous growing
Village Farms Fresh grows tomatoes, cucumbers, and peppers at several facilities in the United States. Arie van der Giessen is Vice President and Regional Facility Manager. For two years he has been working with Blue Radix, specialist in autonomous growing. Blue Radix creates automated intelligence for almost all daily decisions and actions in greenhouses. "I had a growing need to digitize more," says Van der Giessen. "I thought it was important to introduce more structure into the cultivation and to use better crop planning. The weather is becoming more and more extreme, which means that you always have to be alert and that you also have to grow differently. In addition, there is less and less green knowledge available, so it's good if you can make decisions based on available data."
Extra pair of eyes
Van der Giessen came into contact with Blue Radix through Ridder. "It immediately gave me a good feeling when they told us they did not want to take over our cultivation, but rather wanted to offer support so that we could optimize the cultivation ourselves. By using our parameters and by determining how much influence the program has. Autonomous growing is quickly seen as a threat by many growers, but our cultivation specialists see it as a very positive development. Because the level of knowledge is declining, people are becoming increasingly distant from the plant and the climate. Blue Radix offers an extra pair of eyes. You will receive advice at the right times, installations in the greenhouse are steered autonomously and if something goes wrong, you will be called immediately."
According to Van der Giessen, autonomous growing is an interesting option for many companies, regardless of the size of the company and the crop being grown. "I hear and see around me that many companies in North America are looking for methods to guarantee production and quality. If you can't get enough people to control the cultivation, a system like this really makes the difference. It offers the opportunity to improve business operations and therefore to achieve higher quality. Large companies, in which investors are involved, are seriously looking at this development. But smaller companies also see the added value. I would be happy to share my experiences with all of them."
Concentrate on other things
Rest and ease, according to Van der Giessen, are the keywords. "Recently I had to hire a new inexperienced horticulturist and I wouldn't have dared to do that without Blue Radix's autonomous growing system Crop Controller. That would have cost me too much time. But now it went just fine because I can trust that the chosen strategy will be followed. This allowed me to concentrate on other things, while my production stays under control and predictable. The longer we work with this system, the better we get at it." In the long term, Van der Giessen also wants to automate the biology of the nursery, based on the available data on diseases and pests. "There are still a lot of steps we can take in that regard. Ultimately, Village Farms Fresh, as well as other farms in North America, will become smarter through the use of autonomous growing. It will lead to better production models and therefore better results. As a sector, we can therefore improve in the next years."
➡ Want to know more? Read the complete article on the website of GreenTech or reach out to Arie van der Giessen of Village Farms, he's happy to share his experiences on Autonomous Growing.