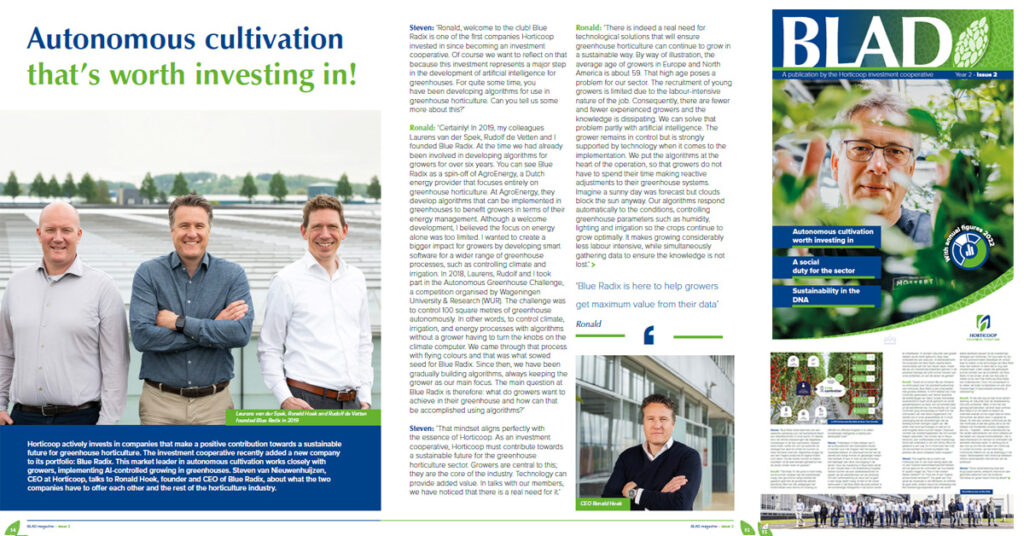 Article Horticoop Magazine BLAD, edition 2 – July 2023
Horticoop actively invests in companies that make a positive contribution towards a sustainable future for greenhouse horticulture. The investment cooperative recently added a new company to its portfolio: Blue Radix. This market leader in autonomous cultivation works closely with growers, implementing AI-controlled growing in greenhouses. Steven van Nieuwenhuijzen, CEO at Horticoop, talks to Ronald Hoek, founder and CEO of Blue Radix, about what the two companies have to offer each other and the rest of the horticulture industry.
Steven: 'Ronald, welcome to the club! Blue Radix is one of the first companies Horticoop invested in since becoming an investment cooperative. Of course we want to reflect on that because this investment represents a major step in the development of artificial intelligence for greenhouses. For quite some time, you have been developing algorithms for use in greenhouse horticulture. Can you tell us some more about this?'
Ronald: 'Certainly! In 2019, my colleagues Laurens van der Spek, Rudolf de Vetten and I founded Blue Radix. At the time we had already been involved in developing algorithms for growers for over six years. You can see Blue Radix as a spin-off of AgroEnergy, a Dutch energy provider that focuses entirely on greenhouse horticulture. At AgroEnergy, they develop algorithms that can be implemented in greenhouses to benefit growers in terms of their energy management. Although a welcome development, I believed the focus on energy alone was too limited. I wanted to create a bigger impact for growers by developing smart software for a wider range of greenhouse processes, such as controlling climate and irrigation. In 2018, Laurens, Rudolf and I took part in the Autonomous Greenhouse Challenge, a competition organised by Wageningen University & Research (WUR). The challenge was to control 100 square metres of greenhouse autonomously. In other words, to control climate, irrigation, and energy processes with algorithms without a grower having to turn the knobs on the climate computer. We came through that process with flying colours and that was what sowed seed for Blue Radix. Since then, we have been gradually building algorithms, always keeping the grower as our main focus. The main question at Blue Radix is therefore: what do growers want to achieve in their greenhouse and how can that be accomplished using algorithms?'
Steven: 'That mindset aligns perfectly with the essence of Horticoop. As an investment cooperative, Horticoop must contribute towards a sustainable future for the greenhouse horticulture sector. Growers are central to this; they are the core of the industry. Technology can provide added value. In talks with our members, we have noticed that there is a real need for it.'
Ronald: 'There is indeed a real need for technological solutions that will ensure greenhouse horticulture can continue to grow in a sustainable way. By way of illustration, the average age of growers in Europe and North America is about 59. That high age poses a problem for our sector. The recruitment of young growers is limited due to the labour-intensive nature of the job. Consequently, there are fewer and fewer experienced growers and the knowledge is dissipating. We can solve that problem partly with artificial intelligence. The grower remains in control but is strongly supported by technology when it comes to the implementation. We put the algorithms at the heart of the operation, so that growers do not have to spend their time making reactive adjustments to their greenhouse systems. Imagine a sunny day was forecast but clouds block the sun anyway. Our algorithms respond automatically to the conditions, controlling greenhouse parameters such as humidity, lighting and irrigation so the crops continue to grow optimally. It makes growing considerably less labour intensive, while simultaneously gathering data to ensure the knowledge is not lost.'
Ronald Hoek: 'Blue Radix is here to help growers get maximum value from their data.'
Steven: 'This means Blue Radix also offers a welcome solution to the increasing shortage of labour in our sector. What's more, the smart applications that take over the daily operations in the greenhouse mean growers have more time to focus on more tactical and strategic work, allowing them to oversee more acreage. Algorithms contribute to higher productivity and lower costs for growers. They allow the achievement of better results from cultivation and the sector can learn and expand more quickly.'
Ronald: 'That's right. And that growth is badly needed if we're to meet the increasing demand for healthy and safe food that goes hand-inhand with a growing global population. We can tackle those challenges through the application of knowledge and experience as efficiently and effectively as possible. Artificial intelligence is a major asset.'
Steven: 'Indeed. In fact, we in the horticulture industry hold an important key when it comes to tackling the global food problem. Moreover, we can make the world a little more beautiful and happier place with ornamentals. I am proud that Horticoop is in a position to contribute to this progress in the sector. Investing in Blue Radix will bring about a new phase in AI development. Together, we can play a meaningful role on the world stage of horticulture. Entering a partnership like this one is a long-term commitment. I am fully confident that Blue Radix is the right partner to take artificial intelligence in the sector to the next level. Of course, although lots of great ideas are launched on the market, they often lack execution or distribution power. Blue Radix's proposition, that leaves growers manifestly at the helm, reinforces our belief as an investment cooperative in the positive contribution you can make to our members and to the sector as a whole.'
Ronald: 'That's good to hear! We are every bit as enthusiastic about Horticoop's shareholdership. Blue Radix is a young company with great ambitions. In 2021, we launched Crop Controller, a service that charts and optimises growers' cultivation strategies without human intervention, based on data gathered from the greenhouse in question. The introduction of Crop Controller went well and won us the trust of a great many growers. It strengthened our growth ambitions and our conviction that the changes we can facilitate are urgent. We want to use our technology to help as many growers as we can as quickly as possible. To accomplish this, we looked for investors who would be able to help us scale up. We found them in Navus Ventures, an independent private investment fund that is part of a family office linked to Lely. And in Horticoop! It's great to be able to join forces with partners who understand this complex market.'

Steven: 'The urgency you mention is something that Horticoop also sees. There are few growers that currently hold an optimistic view of the future when it comes to the continuity of their company. They have questions like: "Can I carry on paying for my costs?" and "How can I achieve higher productivity?". This shows just how great the need is to grow more efficiently and smartly, otherwise you're simply not going to make it. As an investment cooperative, we actively examine which companies align with Horticoop's investment strategy. If you want to be sustainable and make autonomous cultivation affordable and scalable, then Blue Radix's technology is more than welcome. I think there are many more investments to follow that can be linked to Blue Radix's activities. I look forward to going on that journey with you and seeing how Horticoop can support Blue Radix, by harnessing our ecosystem, involving our members and investing in areas such as sensors or robotisation.
Ronald: 'I am also very much looking forward to working with you and of course to interacting with your members. Because I can't stress it enough: the grower is pivotal. Blue Radix is here to help growers get maximum value from their data. We can only achieve that by keeping the dialogue open. And with an active community such as the one at Horticoop, that's fine; it is like having hundreds of experienced advisers who – hopefully! – want to support us in the continued optimisation of our software and the testing of new features. It is always fascinating to meet people who share the same interests. I therefore look forward to getting in touch with Horticoop's members through the Horticoop Community Platform and on the members' day in autumn. After all, working with Horticoop means working at the heart of horticulture.'
Steven: 'This partnership creates a bridge between knowledge, skills, history and a bright future for horticulture. The blue and green go well together!