Optimize and realize your unique crop strategy with AI
The world population is growing rapidly, and our planet lacks the resources to feed everyone in the traditional way. Greenhouses offer an efficient way to produce food and flowers in a sustainable manner. But the number of people with expertise of growing crops in greenhouses is declining every year. At the same time, energy management is increasing in complexity. How do we turn these challenges into opportunities?
With our service Crop Controller you can control your greenhouses from a few compartments to tens of hectares. Now you can increase yield, reduce costs and minimize risks whilst keeping control. Greenhouse growers can easily connect their glass greenhouse and rely on proven world-class data models, award winning technology and experienced Autonomous Greenhouse Managers. Download our leaflet about Crop Controller here.
View how autonomous growing with Crop Controller works in this 1,5 minute animation.
How autonomous growing with Crop Controller works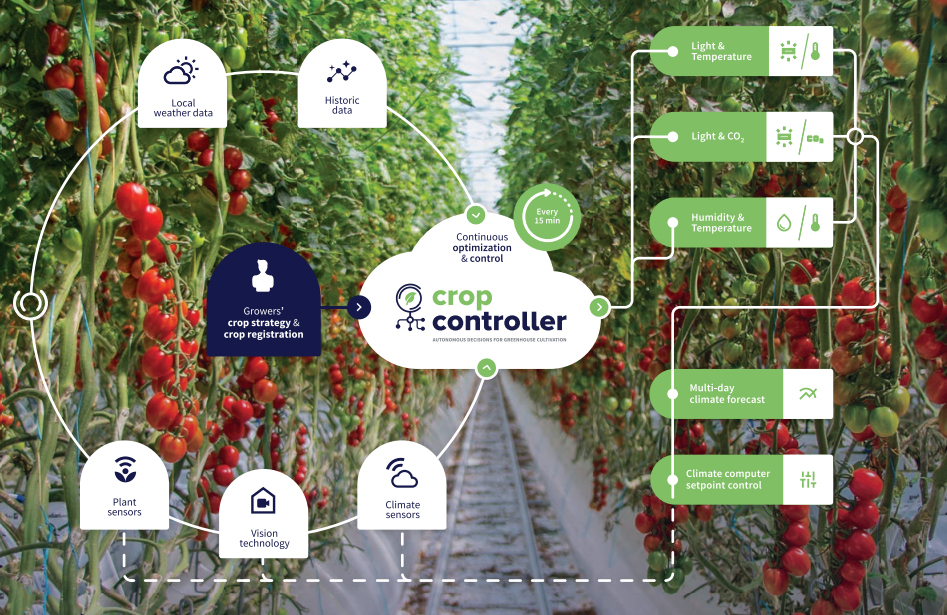 Crop Controller optimizes and realizes the grower's unique crop strategy autonomously
During the entire growth period, AI continuously uses all available data from greenhouse sensors, climate boxes and meteo-data providers to forecast and optimize the climate and irrigation according to the cultivation planning.
Crop Controller integrates all the data and advises on how to adjust the settings of greenhouse automation hardware (e.g., the climate computer) to achieve and maintain optimal greenhouse conditions in the most cost-efficient way.
With the grower's consent, Crop Controller autonomously controls the installations to reach the targets defined by the grower. This means the grower no longer needs to analyze all the greenhouse data or manually set the climate computer. Growers can now shift their focus to increasing the quality of the crop strategy and devote more attention to scaling and innovation.


This is how Crop Controller optimizes and realizes your unique crop strategy. Your data is and remains yours, we never share it with others. This way you can manage up to 4 times more hectares and also strenghten your own competitive position in the market.
You can read more about data ownership at the bottom of this page.
It's a service
AI delivers the most optimal value when it's smartly combined with the human touch. So, we combine Crop Controller with the support of an off-site Autonomous Greenhouse Manager. The Autonomous Greenhouse Manager helps you to get started with autonomous growing, continuously monitors the situation in the greenhouse and is there to proactively discuss ideas, results and improvements with the grower.
Support of an Autonomous Greenhouse Manager
Guides the grower from kick-off towards autonomous growing
Helps structuring a data driven crop and climate strategy
Is involved in the grower's operational challenges
Watches over the shoulder of the grower every day
Monitors 24×7 progress Crop Controller, forecasts and results
Frequent online alignment and contact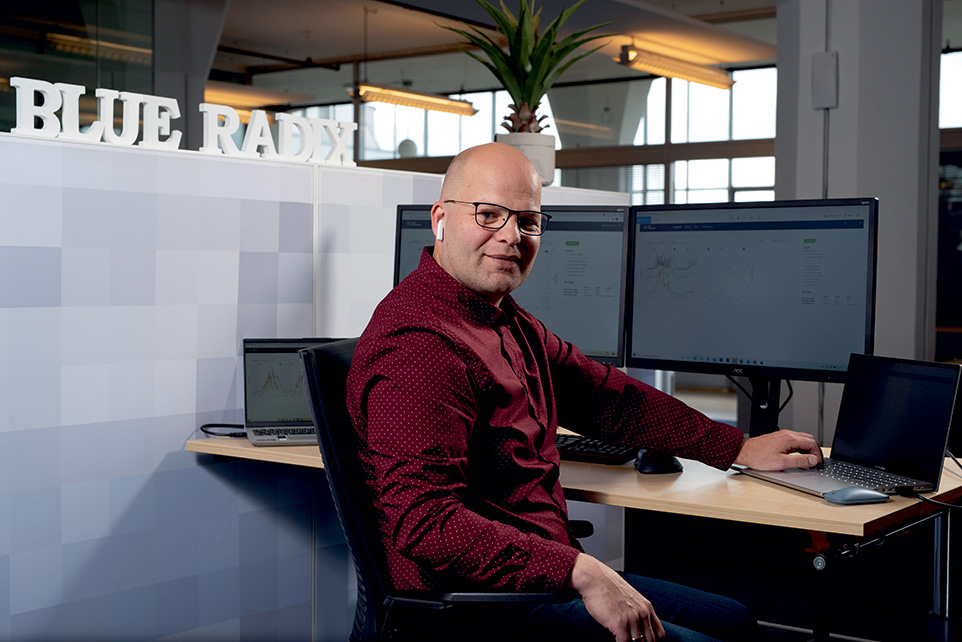 Start your trial with Crop Controller | 6 months & reduced fee
Follow in the footsteps of other forward-thinking growers and make your business future proof. Take advantage of our unique offer and experience the benefits of autonomous growing with Crop Controller for 6 months at a reduced fee. Want to learn more? Request a free consulting report for your greenhouse below or we'll be happy to tell you more in a demo.
Benefits Crop Controller
Without any new hardware or big investments you can:
Manage up to 4 times more hectares per grower
Get higher operational profit up to 10% whilst 5% lower usage of resources
Secure your crop knowledge
Plus you'll get support by an off-site Autonomous Greenhouse Manager!
Benefits of the Crop Controller
Scalable greenhouse operations: manage up to 4 times more hectares per grower.
Higher operational profit up to 10% whilst 5% lower usage of resources.
Limit your operational risks and ecological footprint.
Assure continuity in your greenhouse operations: less dependency on crop experts.
Receive a free consulting report on Autonomous Growing
Is your greenhouse ready for Autonomous Growing? And how can it help you with your daily challenges? Do the quick scan and receive a free consulting report on how autonomous growing fits your business. After finishing the quick scan you  get more information on:
The applicability in your greenhouse(s)
The added value for your company and how it can help you solve your current challenges
Any questions you have about Autonomous Growing
After completing the quick scan you will receive your personal consulting report in your mailbox within 5 working days.
Want a demo about autonomous growing?
Are you interested to learn more about the benefits for your greenhouse? Sign up for a 1-on-1 online demo on Autonomous Growing. Our online demos are meant for growers and/or greenhouse owners. And of course we can also arrange sessions for your greenhouse team or larger groups.
Plant data is at the heart of our models aimed at steering towards a climate for optimal yield. The Crop Controller consists of three components:
Planning of the climate strategy to calculate an optimal crop and climate strategy on a daily base.
Calculating the optimal climate per 5 minutes, based on weather forecast, sensor and climate data and the crop strategy. The optimal climate includes temperature, humidity, carbon dioxide and required light levels.
Calculating 5-minute setpoints for all installations in the greenhouse. The Crop Controller sends these setpoints directly to the installations and monitors the climate continuously.
These three components work as an integrated service for fully autonomous climate control in commercial greenhouses.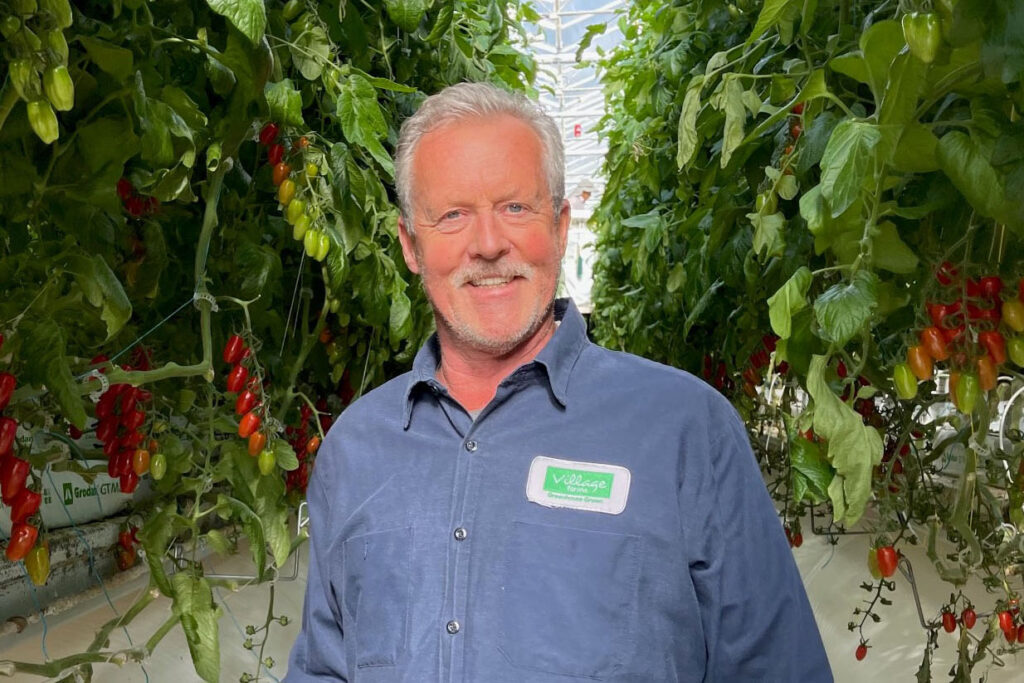 "Crop Controller is aware of our goals and strategy. It continuously optimizes the settings of the climate computer controls autonomously, and within the specified bandwidth we have determined beforehand.
I no longer have to analyze all the data and set the climate computers manually."
Arie van der Giessen
Village Farms, USA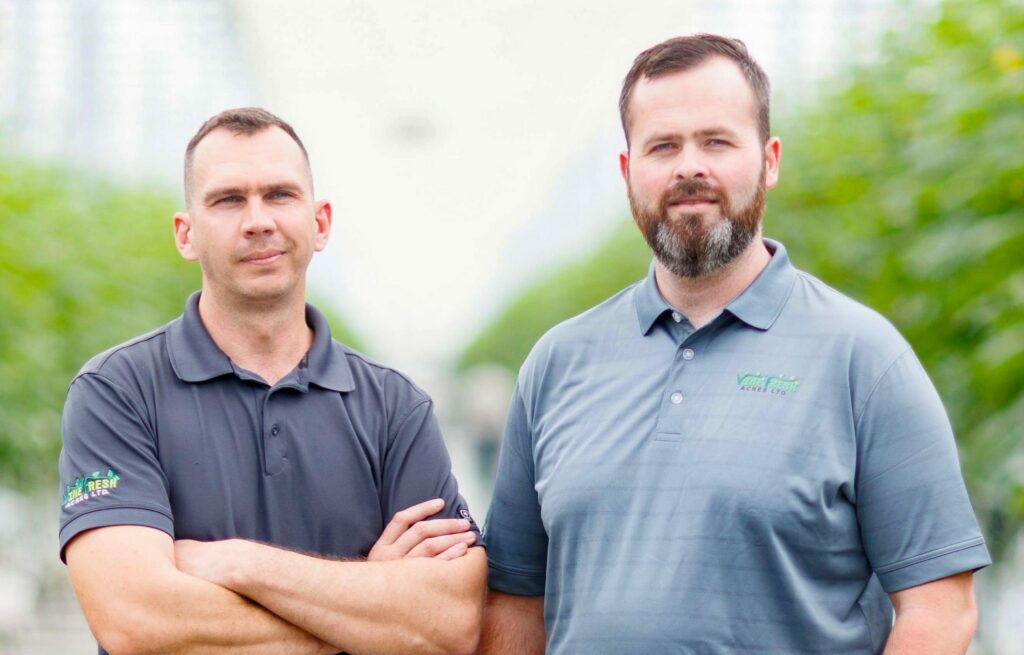 "Crop Controller is doing exactly what we thought it was going to do. We're steering fully autonomous more than 95% of the time. The crop looks good, no issues. Zones that are being steered show less mildew. We like what we see and we want more of it. Crop Controller makes life easier, adding value to it."
Jake Knelsen & Pete Neufeld
Vine Fresh Acres LTD, Canada


"The execution of Crop Controller is great! The AI-system is learning daily. In Mexico we have very specific weather conditions that we need to manage. Crop Controller can adapt to it, helping us achieving our goals, and making growers more efficient."
Manuel Valdes Lara
Bresca, Mexico
A selection of our customers
Security and privacy are incorporated in all decisions we make:   
Data you share with us is only used for the purpose we agreed together. Whether it is personal data or company data. This means:
You can therefore be sure that you are the one that benefits from the value of your data.
We recognize the importance of security for our customers and partners. Company data is a valuable asset, it is part of your competitive advantage. To secure data, we only use best-in-class technology for our full software stack. Regular updates, security audits and security training are standard procedures for us.
The European Union has the most stringent privacy laws. We are fully committed to complying with these regulations. Do you want to know the details? Read our Privacy & Data Statement.
How can we help your company grow?
Do you want to know how autonomous growing with Crop Controller can help you with your greenhouse challenges or do you have any questions? Don't hesitate and contact us. We'll be happy to give you detailed insights!