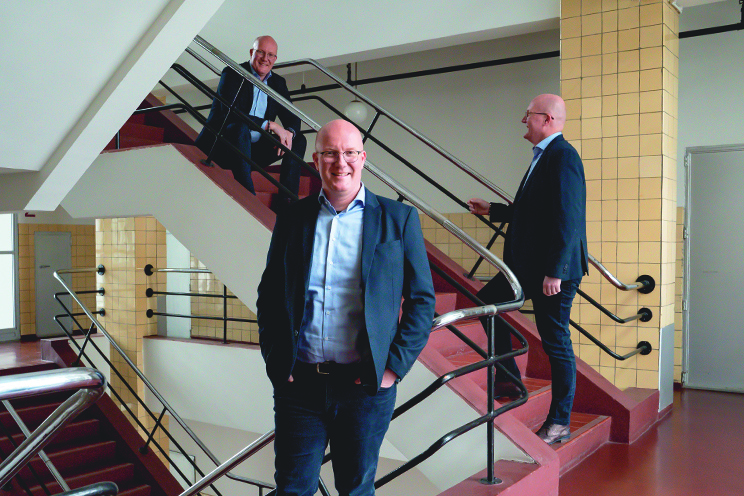 Since its foundation in 2019, Blue Radix has grown rapidly. The specialist in autonomous growing now operates in 14 countries, with the Crop Controller service running at 35 locations. COO Laurens van der Spek talks about the international growth, the latest developments and the opportunities for autonomous growing.
Horticultural entrepreneurs are busier than ever, energy management is becoming more complex, there are fewer people with cultivation expertise in the greenhouse and scaling up is making it harder for growers to keep an overview. Because you can't be in several places at the same time. However, Blue Radix thinks differently. By continuing to take a traditional approach to work in the greenhouse, the challenges will only increase. But by using artificial intelligence in daily decisions in the greenhouse, you can spread your attention more evenly across the company without losing control, says Laurens van der Spek. Four years ago, he joined forces with Ronald Hoek and Rudolf de Vetten to found Blue Radix, based on the experience they had gained with applying Artificial Intelligence (AI) in energy services at AgroEnergy. Blue Radix has since developed into a specialist in the field of autonomous growing, adding artificial intelligence to the daily decisions in the greenhouse.

"We help growers worldwide with the challenges they face. It's becoming increasingly difficult to find people with cultivation knowledge and with companies getting bigger, there's often a lack of overview. With our Crop Controller, we offer growers a digital brain for the greenhouse. Based on algorithms, operational processes in the greenhouse can be controlled and optimized," says Van der Spek. During the growing season, all available data from sensors, measuring boxes and weather data suppliers is continuously used to predict and optimize the climate and the associated irrigation. Crop Controller integrates and analyzes all the data and controls the installations in the greenhouse completely autonomously, in order to achieve and maintain the optimal conditions in the greenhouse in the most cost-efficient way.

Further scale up
There was interest in autonomous growing within the sector from the beginning, says Van der Spek. But after the launch of Crop Controller, things escalated. "We have experienced extremely strong growth, which means that we now operate in 14 countries. Crop Controller is also running at 35 locations. Many companies contact us because they want to experience it for themselves. But once they've had practical experience with it, they often want to scale up to more hectares." Van der Spek had foreseen this need. "But demand has ultimately turned out to be greater than expected. That is mainly a reflection of the extent of the challenges facing many growers today." Van der Spek wants to clear up one misunderstanding immediately: "We don't replace the grower; we just offer support by means of Crop Controller. A grower can no longer sit at their computer 24/7. Using artificial intelligence enables them to make much better predictions, and therefore work less reactively. This creates a sense of calm and an overview, allowing entrepreneurs to increasingly let go of the 'steering wheel'. But growers are still responsible for their own crop strategy. It's their strategy and their cultivation, so they will always be needed. I'm convinced of that. But we can make it a lot easier for them."

Trust
An important part of the service that Blue Radix offers is the personal support. "We guide users of Crop Controller and advise them where necessary. Because some people pick it up more easily than others. Each customer is allocated their own Autonomous Greenhouse Manager. They help the grower on their way with autonomous growing, they continuously monitor the situation in the greenhouse and are available to proactively discuss results, ideas and improvements. We do help users remotely, but that works perfectly in practice. Through such support, we can provide important added value." According to Van der Spek, the strong rise of AI worldwide, but also in horticulture, ensures that the threshold for entrepreneurs is coming down.
Working in the cloud is becoming more normal and therefore more accessible too. Crop Controller is also offered online as an 'SaaS service'. SaaS stands for Software-as-a-Service, or software that is offered as an online service. Users don't have to purchase and install the software themselves, just enter into a monthly contract, for example. The SaaS provider manages the setup, maintenance and management, while the user accesses the software over the internet at the SaaS provider. "Because we operate worldwide, our service must also be available to growers anywhere in the world without them having to purchase hardware first. As a result, you don't need to make large investments to start growing autonomously," says Van der Spek. "But online software can also be developed more easily, is safer to use and updates can be carried out quickly and easily."

Data remains property grower
Van der Spek also wants to emphasize once again how carefully Blue Radix manages growers' data. "That data is the intellectual property of the entrepreneur. We don't share it with anyone, and we only use it to improve the company's own processes. In this way, they also benefit from the value of their data. The data relating to their crop strategy is the company's DNA and in this way, they also maintain their competitive position in the market. It's good that people look critically at the sharing of data; generic trust is not good. And I also welcome the fact that users want to know how we secure their data. We ensure that the data of different users always remains separate, and we secure the data in collaboration with Microsoft, which advises and supports us in this. Moreover, we continuously train our people to ensure that they are also aware of the importance of secure data."
In the coming years, Van der Spek expects further growth in autonomous growing. Worldwide, but also within Dutch horticulture. "Until now, there may have been less need in the Netherlands than elsewhere in the world, but Dutch growers are also looking to the near future. The knowledge may still be present in the company, but here too it is becoming less and less. Furthermore, the companies are growing, and expansion is taking place abroad. So, there are also limits to the available knowledge and expertise within a company. I notice that Dutch growers are very aware of this, and we see that they are also becoming more interested in autonomous growing. We are happy to help them automate part of their work, so that in a sense they can still be in several places at the same time and thus bring calm to the organization. But again, it will always be a collaboration between man and machine."

Text and photo: Kas Magazine