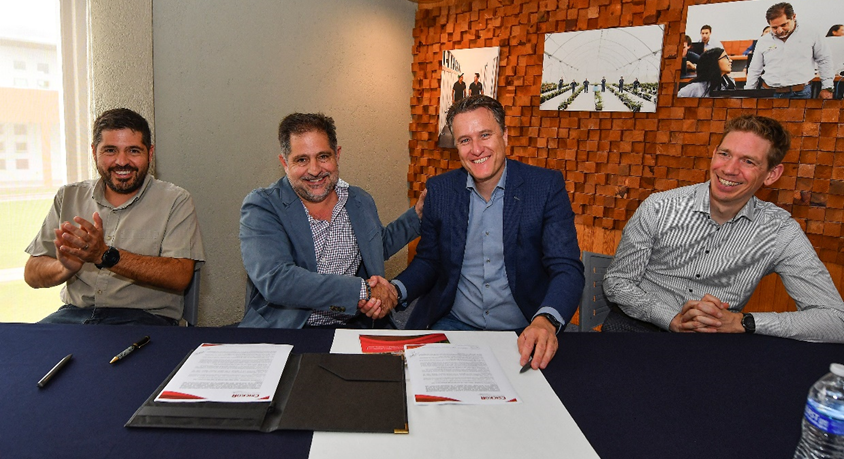 The greenhouse industry in Mexico is growing fast. At the same time, daily greenhouse operations need continuous improvement as greenhouse owners struggle with a shortage of skilled growers and labor. To respond to this challenge, Ceickor, the greenhouse University of Mexico, and Blue Radix, specialist and market leader in Autonomous Growing, decided to join forces. The festive signing of the partnership agreement by Director of Ceickor Felix Tarrats and Ronald Hoek, CEO of Blue Radix, and the unveiling of the cooperation sign on 11 October was attended by many students.
Felix Tarrats explains: "At Ceickor, our goal is to prepare students for a job in the Mexican horticulture industry in the best way possible. We also encourage growers and students to keep up to date with the latest developments during their professional life. For that reason, we want to be at the forefront of new developments which will significantly impact the growth and future of the Mexican greenhouse industry. I am convinced that Autonomous Growing can contribute to this growth."
Knowledge sharing accelerates embrace of technology
"At Blue Radix, we support growers in their daily challenges by applying AI," says Ronald Hoek, CEO and co-founder of Blue Radix. This development in our industry is relatively new. We understand knowledge sharing, providing clear insights, and showing-how-it-works-in-practice is a necessity for the industry to embrace technology. Autonomous Growing is powerful, and it's important to understand its value. We are therefore proud and enthusiastic about this partnership with Ceickor in Mexico.
The partnership has 4 clear goals:
Share knowledge about Artificial Intelligence (AI) and Autonomous Growing in greenhouse operations.
Prepare students to run greenhouse operations with AI-driven solutions.
Optimize the functionalities of AI-driven solutions to meet the specific needs of Mexican growers.
Stimulate the use of AI in today's greenhouses in Mexico by demonstrating the value of these solutions at Mid- and High-tech production facilities at Ceickor and around the country.

Resolve the shortage of skilled growers
Blue Radix, the Dutch AI specialist in Autonomous Growing, develops and applies AI-driven solutions for daily greenhouse processes. In 2014, the team introduced the first applications on energy in the Dutch market. Today, the company provides solutions for autonomous growing to resolve the shortage of experienced and skilled growers in Mexico and in 12 other countries. With 30 colleagues from many different countries and backgrounds, the company has 1 purpose: to empower growers to manage a multitude of hectares, whilst improving their yield and product quality.
An open mind to overcome challenges
Felix concludes: "We know that the industry is facing some fundamental challenges. Technology is there to empower and help us get the most from greenhouse production. Reducing the use of scarce resources like water, fertilizers and energy is part of this approach. Being realistic, practical and open-minded assures us that, as players in horticulture, we can overcome the challenges and continue improving production and value. Together with Blue Radix, Ceickor can further contribute to that mutual goal."
About Ceickor
Ceickor University Center is a Mexican educational institution that offers engineering degree in protected agriculture with a practical and comprehensive educational model and university senior technician in protected crops. The Univesity also offer courses, workshops and seminars for professionals in the agroindustry sector. More information: www.centrouniversitarioceickor.edu.mx.
About Blue Radix
Blue Radix is the independent specialist and market leader in autonomous growing. The company creates automated intelligence for almost all daily decisions and actions in greenhouses. Due to the rapid growth of the world population, there is an increasing need for healthy and safe food. Greenhouse production is being scaled up around the world, but the declining number of experienced growers is a limiting factor. Blue Radix offers solutions to these global challenges: AI-based services that support growers with a 'digital brain' for their greenhouses. The Crop Controller service enables growers to manage significantly more hectares and increase yields while reducing costs. More information www.blue-radix.mx.
Note for editors (not for publication):
Ceickor
Ireri Aldrete
University Linkage & Development Director
Ireri.aldrete@centrouniversitarioceickor.edu.mx
+52 446 139 7186
Blue Radix
Marijke van Rongen
Manager Marketing & Communications
marijke.vanrongen@blue-radix.com
+31 6 5343 3839