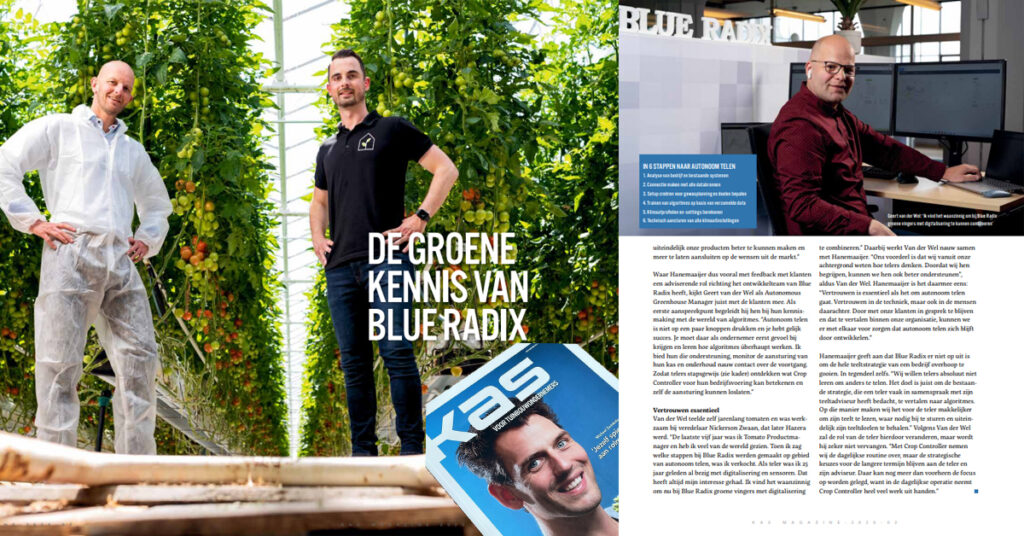 Article Kas Magazine, June 2021
Blue Radix supports horticultural entrepreneurs in controlling their greenhouses with its Crop Controller service – not just using software and smart algorithms, but also drawing on the expertise of its own advisors on crops, energy and data. Crop Advisor Jan Hanemaaijer and Autonomous Greenhouse Manager Geert van der Wel introduce themselves.
Mention autonomous growing these days and thoughts immediately turn to Blue Radix. The Rotterdam-based company only launched in 2019, but already it has proved itself as a pioneer and specialist in artificial intelligence for greenhouse farming. With its Crop Controller service, Blue Radix offers growers a 'digital brain' for their greenhouses. The solution deploys smart algorithms to optimize greenhouse climates, reduce water and energy consumption, and diminish operational risks. But Crop Controller also has a human side, offering growers support where needed. Jan Hanemaaijer and Geert van der Wel are responsible for this, each from their own perspectives.
Green expertise
"I come from a horticultural family, but I began work as a junior crop advisor at DLV (the Dutch Agricultural Extension Service) after completing my degree in Agricultural Business Administration," explains Hanemaaijer. "I was able to work with some real horticulture experts there, and I learned a huge amount from them." Hanemaaijer also gained plenty of international experience from a whole range of renowned vegetable breeders. Entrepreneurs working on autonomous growing led him to Blue Radix last year, where he began work as a Crop Advisor. "With my green knowledge, I'm the connecting link between our developers and our customers. I help translate customers' unique crop strategies into Crop Controller's smart algorithms. I also I provide green input for colleagues working on the models and algorithms, and solicit feedback on our products in practice." Hanemaaijer regularly receives horticulture-related questions from his Blue Radix colleagues. "I find things out for them, involving my network and consulting customers, with the ultimate aim of making our products better and more in line with market needs."
Where Hanemaaijer's main role is to advise the Blue Radix development team through feedback from customers, Autonomous Greenhouse Manager Geert van der Wel supports customers directly. As their first point of contact, he introduces and guides them into the world of algorithms. "Autonomous growing isn't about pushing a few buttons and enjoying instant success. As an entrepreneur you first have to get a feel for it and learn how algorithms work in practice. I offer them that support, monitor the control of their greenhouses and maintain close contact on progress, so that growers gradually discover what Crop Controller can do for their greenhouses and businesses, and can ultimately relinquish control themselves."
Trust is essential
Van der Wel was a tomato grower for many years, and worked at breeder Nickerson Zwaan, which later became Hazera. "I was Tomato Product Manager for the last five years, which let me see a lot of the world. I was sold as soon as I saw the progress Blue Radix was making in autonomous cultivation. As a grower I was already working with digitalization and sensors 25 years ago. It has always interested me. I think it's great to be able to combine green fingers with digitalization at Blue Radix." Van der Wel works closely with Hanemaaijer in all this. "Our advantage is that our backgrounds tell us how growers think. Understanding them means we can also support them better," points out Van der Wel. Hanemaaijer agrees: "Trust is essential when it comes to autonomous growing. Trust in the technology, but also in the people behind it. Continuing to talk to our customers and translating that into our organization lets us ensure together that autonomous growing continues to develop."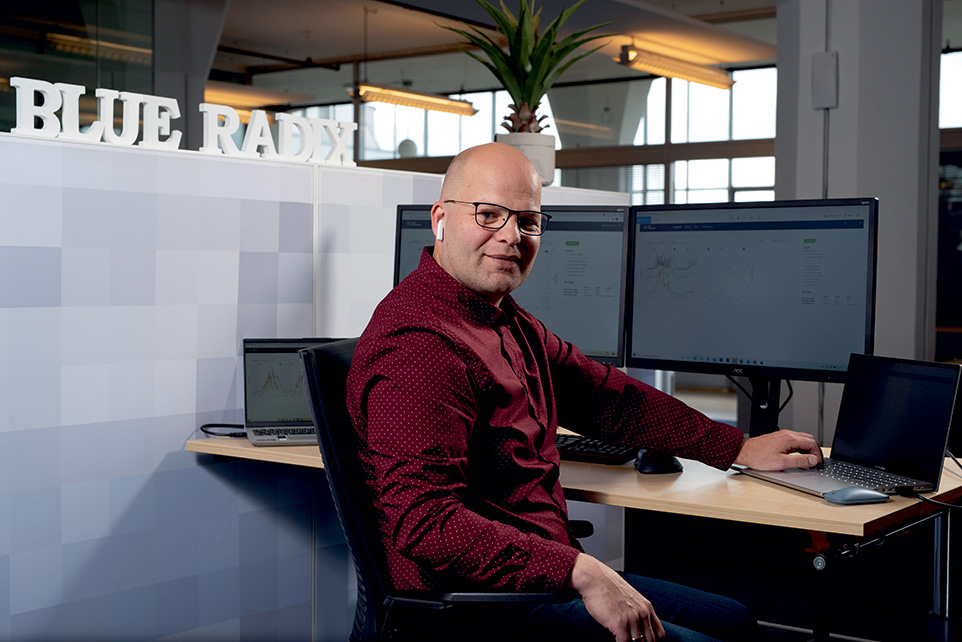 Hanemaaijer does point out that it's not Blue Radix's intention to turn a company's entire cultivation strategy upside down. On the contrary, in fact. "We absolutely don't want to teach growers to grow differently. The goal is to translate the existing crop strategy, which a grower has often devised in consultation with his crop consultant, into algorithms. This way we make it easier for the grower to read his cultivation, adjust where needed, and ultimately achieve his cultivation goals." Van der Wel believes this will indeed change the role of the grower, but it will certainly not replace him. "With Crop Controller we take over the daily routine, but the strategic choices for the longer term remain with the grower and his advisor. They can then focus on this even more, because Crop Controller takes so many of the daily operations off their hands."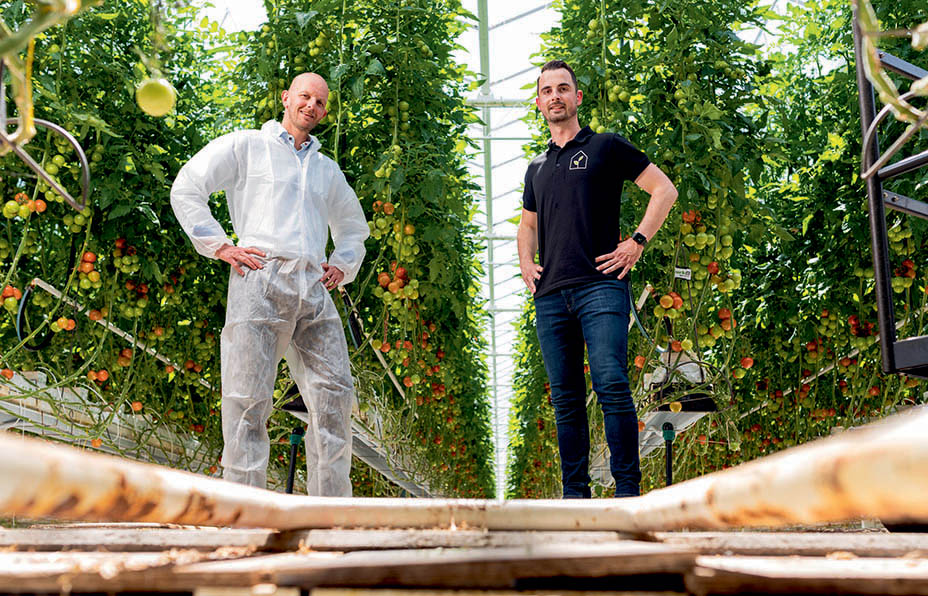 Photo caption
"Autonomous climate control by Crop Controller lets me create an optimal greenhouse climate autonomously, which ensures that my production, product quality and delivery reliability are guaranteed. Now and in the future."
Sebastiaan Breugem
Breugem Horticulture
The six steps to autonomous growing
1. Analysis of business and existing systems
2. Connecting to all data sources
3. Create setup for crop planning and set goals
4. Training algorithms based on collected data
5. Calculating climate profiles and settings
6. Technical control of all climate settings
Do you want more information? Don't hesitate and get in touch, we'd love to help you!
Text: Jacco Strating, Photography: Linda Straathof
Source: Kas Magazine