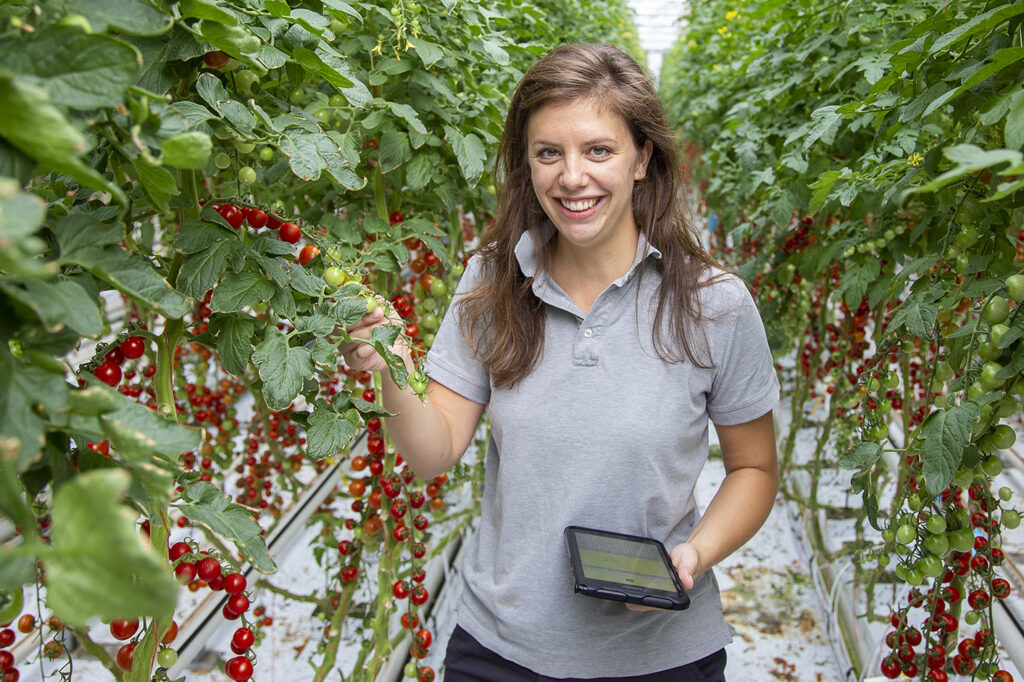 Rijk Zwaan and Blue Radix have undertaken a joint initiative for a unique production comparison with autonomous growing. Implementing artificial intelligence (AI) in Rijk Zwaan's seed production process has many advantages. The comparison across two departments created a major opportunity to demonstrate the value of autonomous growing in a production situation.
Simon Molenaar, Manager Production & Supply: "Rijk Zwaan is constantly on the lookout for new innovations and technologies that can make a positive contribution to the seed production process. Autonomous growing can add value to our production process in several areas. Predictability of production, and in particular the quality and quantity, is vitally important for our business operations. Central cultivation guidance can also be carried out more efficiently, because there's a better overview."
The Blue Radix Crop Controller offers an AI-driven solution for daily climate control without any intervention from the grower. Crop Controller works autonomously, taking the grower's crop strategy as its starting point. Notes Jan Hanemaaijer, the Blue Radix Crop Advisor who was involved intensively in the project: "The comparison was carried out at the MR Seeds production site in Bleiswijk here in the Netherlands, where seeds are grown for Rijk Zwaan. In the second half of 2021 we started with the cultivation for cucumber seed production in two departments concurrently. The climate in one department was controlled entirely autonomously by Crop Controller, while its counterpart ran production in the traditional way."
He continues: "Every week, grower Maikel van den Berg of MR Seeds and the Rijk Zwaan Crop Supervisor, Wim Groenewegen, discussed the crop and climate strategy, which was adjusted where necessary. Crop Controller then took care of implementing this strategy in the relevant department, by continuously processing and optimizing all available data." Adds Maikel: "Crop Controller always looks two days ahead and adjusts the climate with five-minute values, to realize my crop strategy. This happens 24 hours a day, 7 days a week, under any weather conditions. In the autonomous department I left the climate control to Crop Controller, and Blue Radix monitors Crop Controller activities remotely. One of the things I noticed is that the steering in the autonomous department was far more uniform than in the 'manually' controlled department. The autonomous control is perfectly in line with my forecasts, giving me peace of mind so that I really can let go of the steering-wheel!"
Jan Hanemaaijer: "Our models in Crop Controller 'train' with the historical data and all the greenhouse cultivation data. Crop Controller also takes the most recent weather forecasts into account. In the climate computer, Crop Controller controls all the heating and ventilation settings. These are the setpoints for both heating and ventilation temperature, but Blue Radix is also controlling the minimum and maximum bandwidths of the heating pipes and the window installations. Crop Controller indicates which setpoints, including (weather) influences on these setpoints, will be used to control the installations. This is also a strong interaction with the climate computer."
Maikel emphasizes: "Good connections with climate computers are of course an important precondition for a successful operation. That's why we are very happy with the collaboration between Blue Radix and Priva. Priva's open platform strategy opens up new opportunities, and also opens up innovation to growers in a robust way.
"The climate strategy is assessed weekly and adjusted if necessary. This lets us keep our finger on the pulse and we know for sure that we are implementing the right strategy," continues Maikel. "Crop Controller optimizes and executes our strategy, but does not (yet) determine what it should be. Of course, we always remain responsible for determining the direction of how the crop should be adjusted. Sometimes there will be more growth control, for example by maintaining a higher daily temperature, while at another time the emphasis may be on a fruit set and we may aim for a greater day-night temperature difference, for instance."
"The grower's strategy is executed as accurately as possible and our Blue Radix team monitors whether the setpoints that Crop Controller predicts and controls also fall within the grower's framework," explains Jan. "If there are major or unexpected deviations, our Autonomous Greenhouse Manager will contact the grower. Blue Radix also contacts Rijk Zwaan in the event of any technical malfunctions, so that the grower doesn't have to worry about this either."
Josephine van Eggelen (see photo), Production Development Specialist at Rijk Zwaan, concludes: "The grower's crop strategy has been executed well by the Blue Radix AI system. This has demonstrated to us that autonomous growing can indeed deliver the value we seek at Rijk Zwaan. It's an important step towards achieving our goals and ambitions. That's why we have also decided with confidence to continue our cooperation with Blue Radix, and to expand it to further departments. In doing so, we are working towards complete control of our production processes with AI, for all our production locations."