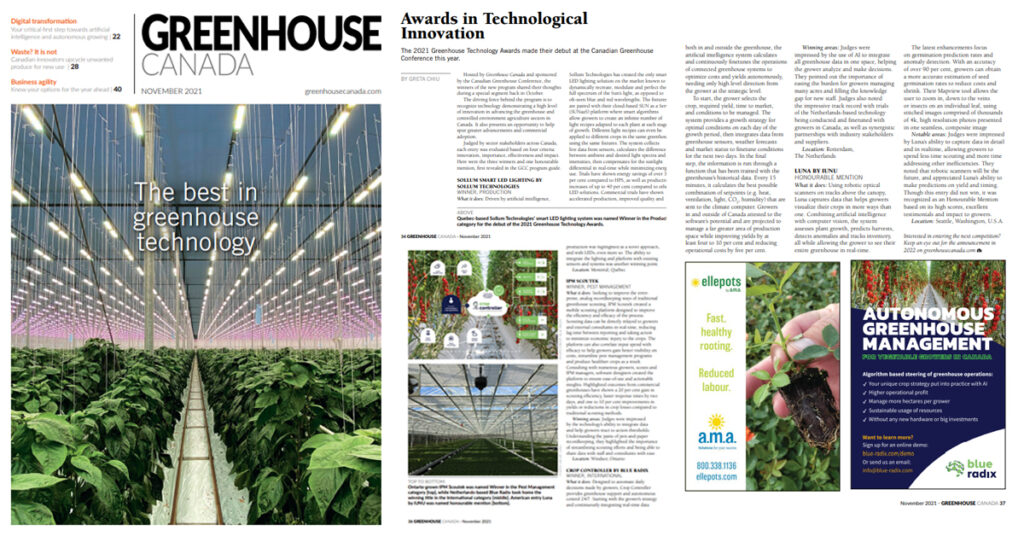 Awards in technological innovation
In the November issue of Greenhouse Canada magazine a close look at the Greenhouse Technology Awards that made their debut at the Canadian Greenhouse Conference this year. The article decribes the three winners and one honourable mention. Blue Radix' Crop Controller is the proud winner in the category International. Below a description of what Crop Controller does and what the winning areas are. You can read the whole three page article via the link below.
International winner: Crop Controller by Blue Radix
What it does: Designed to automate daily decisions made by growers, Crop Controller provides greenhouse support and autonomous control 24/7. Starting with the grower's strategy and continuously integrating real-time data both in and outside the greenhouse, the artificial intelligence system calculates and continuously finetunes the operations of connected greenhouse systems to optimize costs and yields autonomously, needing only high level direction from the grower at the strategic level. To start, the grower selects the crop, required yield, time to market, and conditions to be managed. The system provides a growth strategy for optimal conditions on each day of the growth period, then integrates data from greenhouse sensors, weather forecasts and market status to finetune conditions for the next two days. In the final step, the information is run through a function that has been trained with the greenhouse's historical data. Every 15 minutes, it calculates the best possible combination of setpoints (e.g. heat, ventilation, light, CO2 , humidity) that are sent to the climate computer. Growers in and outside of Canada attested to the software's potential and are projected to manage a far greater area of production space while improving yields by at least four to 10 per cent and reducing operational costs by five per cent.
Winning areas: Judges were impressed by the use of AI to integrate all greenhouse data in one space, helping the grower analyze and make decisions. They pointed out the importance of easing the burden for growers managing many acres and filling the knowledge gap for new staff. Judges also noted the impressive track record with trials of the Netherlands-based technology being conducted and finetuned with growers in Canada, as well as synergistic partnerships with industry stakeholders and suppliers.
Read more in the 3 page article (pages 34,36-37)
Want to learn more about Crop Controller?
Send an e-mail to info@blue-radix.com or subscribe to one of our online demos.