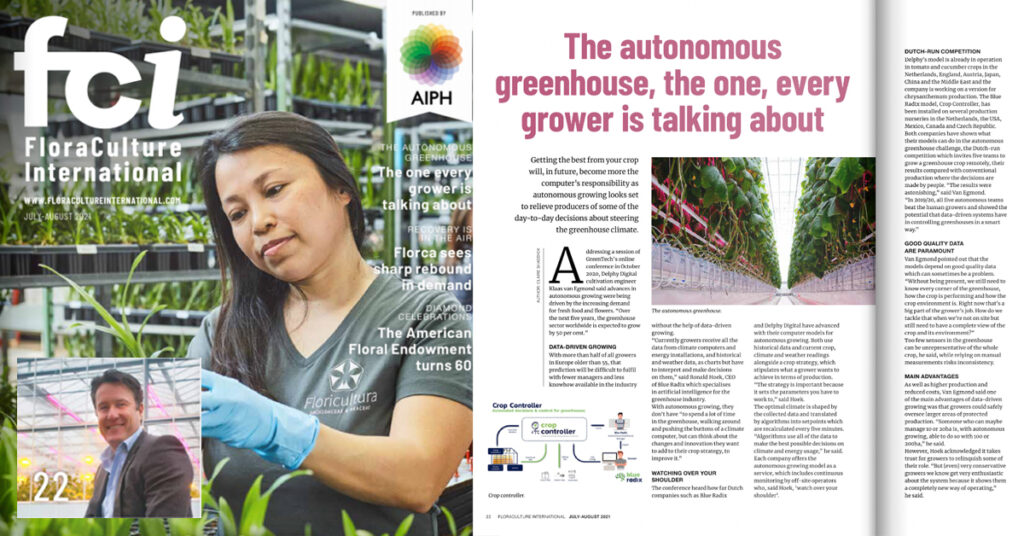 Summary article Floraculture International Magazine, July'21
In the July edition of Floraculture International Magazine, Ronald Hoek, CEO of Blue Radix is interviewed about autonomous growing with Crop Controller. Getting the best from your crop will in future become more the computer's responsibility as autonomous growing looks set to relieve producers of some of the day-to-day decisions about steering the greenhouse climate, the article states.
Over the next five years, the greenhouse sector worldwide is expected to grow by 50 per cent. And with more than half of all growers in Europe older than 55, that prediction will be difficult to fulfil with fewer managers and less knowhow available in the industry without the help of data-driven growing.
"Currently growers receive all the data from climate computers and energy installations, and historical and weather data, as charts but have to interpret and make decisions on them," said Ronald Hoek, CEO of Blue Radix which specialises in artificial intelligence for the greenhouse industry. "With autonomous growing, they don't have to spend a lot of time in the greenhouse, walking around and pushing the buttons of a climate computer. Growers can now think about the changes and innovation they want to add to their crop strategy, to improve it."
The article describes how far Dutch companies such as Blue Radix have advanced with their computer models for autonomous growing. Using historical data and current crop, climate and weather readings alongside a crop strategy, which stipulates what a grower wants to achieve in terms of production. "The strategy is important because it sets the parameters you have to work to," said Hoek. The optimal climate is shaped by the collected data and translated by algorithms into setpoints which, in both models, are recalculated every five minutes. "Algorithms use all of the data to make the best possible decisions on climate and energy usage," he said. Blue Radix offers the autonomous growing model as a service, which includes continuous monitoring by off-site operators who, said Hoek, 'watch over your shoulder'.