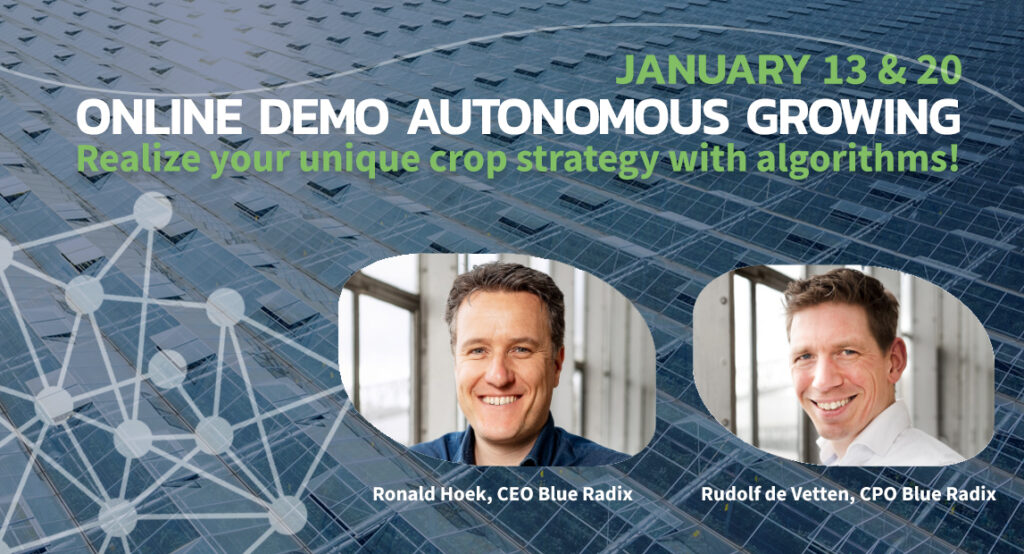 Autonomous growing in your greenhouse? It's already possible! Blue Radix optimizes and controls the climate in greenhouses, entirely autonomously, and always with the grower's crop strategy as the starting point. Not in a test environment, but in fully-fledged production greenhouses of leading growers. Blue Radix will organize two online demos in January, where it will share its experiences and give you a unique look into the world of autonomous growing with Crop Controller. Did you know that Crop Controller recently won two prestigious awards? *. Via the link below, you can now register for the online demo.
Do you want growers to be able to oversee and control more hectares? Do you want to expand and even gain more operational profit? Then sign up for this online demo where you will learn more about how our data models work, and how we can realize your unique crop strategy step by step with Crop Controller's algorithms.
*Crop Controller was recently named a winner in the international category, at the Greenhouse Technology Awards in Canada. Crop Controller also took first prize in Data Science and AI at Hillenraad's Tech50 awards, with a rating of 5 stars.
Online demo program
Ronald Hoek and Rudolf de Vetten will cover these topics in the demo:
A short introduction to Blue Radix
Insight into the way Crop Controller works and how the algorithms control the daily greenhouse operations. How is the grower's unique crop strategy realized autonomously?
What six steps we go through in our phased and structured approach to successful autonomous growing in your greenhouse
Practical experiences gleaned from cooperation with growers
The demo lasts an hour, and you are welcome to ask questions both during it and afterwards. Both Ronald and Rudolf will be happy to engage with you.
You can sign up for one of these demos:
Thursday January 13 from 10 – 11 a.m. (Demo in Dutch)
Thursday January 20 from 3 – 4 p.m. (Demo in English)
Times shown are Central European Times (CET)
Sign up now
You can sign up now at www.blue-radix.com/demo and select the demo of your choice. You'll receive the link well before the start, with information to follow the online demo.
Can't attend on these dates but you would like to participate next time? You can also indicate this on the website.