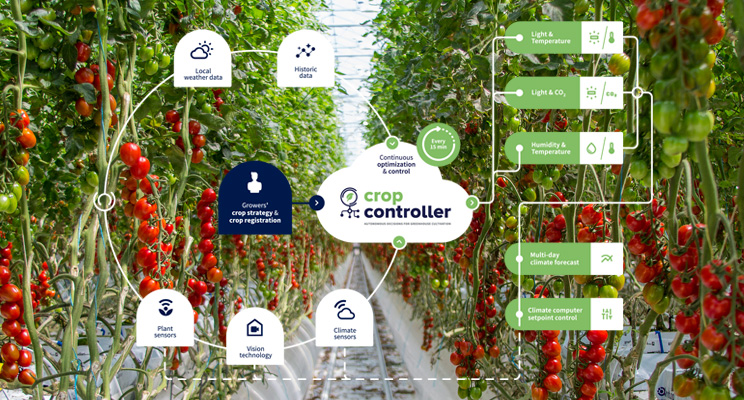 Did you think autonomous growing was a development for the future? It's already a reality today! Do you want to learn how you can use this technology in your company? Blue Radix, specialist in autonomous growing, can tell you all about it at Greentech Amsterdam: live at stand 01.114 or online between 28-30 September! Also be sure not to miss our presentation and podcast recording.
"We are delighted to be participating in Greentech Amsterdam and meeting growers and relations face to face again," says Ronald Hoek, CEO at Blue Radix. "At our stand, we will be telling visitors how autonomous growing with Crop Controller works and how they can use this in their greenhouse. We have a large image on the back wall of our stand explaining how Crop Controller integrates all the data from greenhouse sensors, climate boxes and meteo-data providers to forecast and optimize the climate and irrigation based on the grower's cultivation planning.
We combine Crop Controller with support from an Autonomous Greenhouse Manager. They help growers get started with autonomous growing and continuously monitor the situation in the greenhouse. We can also explain why growers want to work with this technology and its added value: growing more hectares and getting a higher operational profit!
We are proud that our service Crop Controller is the first commercial solution for autonomous growing on the market, already used in greenhouses in 6 countries."
Blue Radix presentation and podcast recording during Greentech!
Presentation | Autonomous growing: the future has started today!
XPERT Theatre, Tuesday 28 September 3-4 p.m. (CEST) Live & online!
By Rudolf de Vetten, Chief Product Officer, Blue Radix

Did you think autonomous growing was a development for the future? It's already a reality today in greenhouses on multiple continents. The number of skilled people with expertise in growing crops in greenhouses is declining every year. This is having a direct and negative impact on yield, costs, continuity and product quality. Autonomous growing is already tackling these challenges in greenhouses worldwide. What is driving this rapid development? What is its impact and why do growers choose to work with this technology? Rudolf will explain this and say more about how smart algorithms can optimize and steer the greenhouse climate autonomously.
Podcast with Ronald Hoek | Autonomous growing: a new era in food production
Part of radio and podcast special | Jungle Talks at GreenTech

During Greentech, Jungle Talks will record a special radio program and podcasts on sustainability in horticulture and the future of food. Presenter Ed Smit and co-host Frederik Vossenaar, special envoy at the Ministry of Agriculture, Nature and Food Quality discuss opportunities, new technologies and innovations with Ronald Hoek, CEO of Blue Radix and Art van Rijn, CEO of Artechno.
By 2050, the Earth will have 2 billion extra inhabitants. At the same time, large parts of the world will face droughts and water shortages, which will have a huge impact on regional food security. We need to find an answer to how to feed the world without harming the planet. To achieve this, we need to collaborate and embrace possibilities and innovation.
Greenhouses can make an important contribution to meet this increasing demand for food. Greenhouse acreage is growing, but there are not enough human growers to operate these greenhouses. This problem will become even more evident in the next 5-10 years. Smart, autonomous, steering algorithms can provide solid solutions! It can be done, but it takes a mind shift and social innovation. Are we ready for this new era in food production?
Broadcast Podcast
This GreenTech special will be broadcast on October 5, 16.00 hrs CET via www.paprikatastyradio.nl. Following the radio broadcast, the GreenTech special will also be available for download as podcast from Open Spotify via this link: https://bit.ly/JungleTalksPodcast