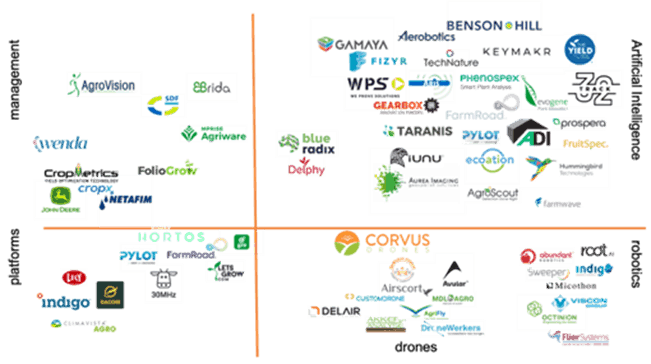 WILL YOU HELP US TO REALIZE THE HIGH TECH MATURITY MODEL?
Blue Radix and Corvus Drones are innovative start-ups and active in the high tech (greenhouse) horticulture. Worldwide, this industry is growing fast and is more and more dominated by large industrial groups of growers. The use of high tech solutions is necessary in order to manage the complex companies and to cope with the labour scarcity. Human experts, growers and skilled labour are hard to find. A strong need for further automation is a logical and urgent effect. Data driven solutions, drones, robotics or even autonomous greenhouses are becoming accepted solutions.
Need for a clear model
Growers and investors are positive about these developments but struggle with finding their way around in this world of innovations. Which solutions are mature? What is data driven and what is autonomy? How do these solutions interact with each other? How can I implement this in my operations? There is a need for a clear model in which these companies and solutions can be categorised, combined and compared. This model or overview does not exist as such and the enclose figure is an example of a possible model. Finding and elaborating the right model is the topic of the internship or thesis research. This challenging assignment perfectly fits Batchelor students (4th year) or Master students (3rd year internship or 4th year thesis). Corvus Drones and Blue Radix are your client.
More information?
Do you want to know more about the research questions, what we can offer and who we are looking for? Read more in this document.
If you're interested, please contact
Ronald Hoek: ronald.hoek@blue-radix.com and/or
Frans-Peter Dechering: frans-peter@corvusdrones.eu