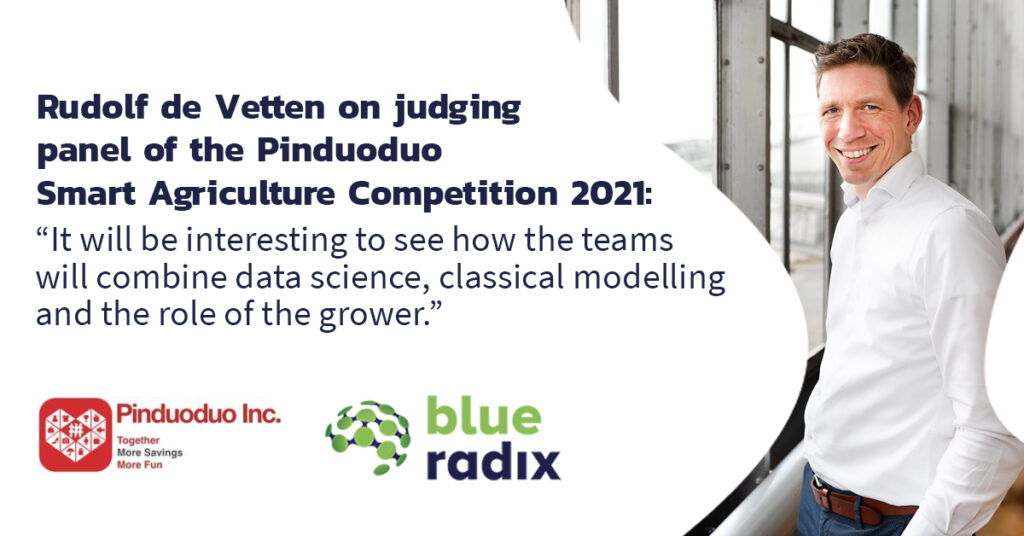 Pinduoduo is co-organizing the Smart Agriculture Competition with China Agricultural University and Zhejiang University, with technical guidance from the FAO and Wageningen University and Research. The competition will run from August 2021 to March 2022. Participating teams will compete to remotely grow tomatoes, combining agronomic knowledge with precision technology such as greenhouse automation, sensors and algorithms. The objective is to develop efficient techniques to grow tomatoes with high yield and nutritional quality at a low cost, using an environmentally sustainable approach.
Blue Radix part of judging panel
For the 2021 Smart Agriculture Competition, the judging panel is composed of leading experts and growers with diverse backgrounds including horticulture, crop modeling, algorithm design and policymaking. Tomato experts from China, the Netherlands, and Denmark will provide guidance to the participating teams. Rudolf de Vetten, Chief Product Officer and responsible for the product development of Blue Radix, is one of the members of the judging panel. "I'm looking forward to the creativity that teams will show to solve this complex problem. The technology itself will be interesting to judge, but more important is the philosophy behind it, why are specific choices made and what is the impact of each choice? It will be interesting to see how the teams will combine data science, classical modelling and the role of the grower."
The competing teams will be judged not just on yield but also on the nutritional value and environmental impact of their farming methods. This is in line with Pinduoduo's strong commitment to environmental sustainability, food quality and food safety.
Benefits through digitalization
"Technology is transforming agriculture and food production. It is extremely important to implement the digital transformation of agriculture and improve food safety," said Carlos Watson, the FAO Representative to China. "FAO provided technical support to the Smart Agriculture Competition last year. We are looking forward to another successful collaboration to bring farmers real benefits through digitalization."
Help to grow better
"Through the Smart Agriculture Competition, we hope to interest more young scientific talent in agriculture so that they can apply their talents to helping farmers," says Andre Zhu, Senior Vice President at Pinduoduo. "Helping farmers to grow better not only helps people to eat better, but also has a positive impact on the environment."
About Pinduoduo Inc.
Pinduoduo is a mobile-only marketplace that connects millions of agricultural producers with consumers across China. Pinduoduo aims to bring more businesses and people into the digital economy so that local communities can benefit from the increased productivity and convenience through new market opportunities.
More information
Click here for more information about all members of the judging panel.
Click here for more information about the Smart Agriculture Competition.