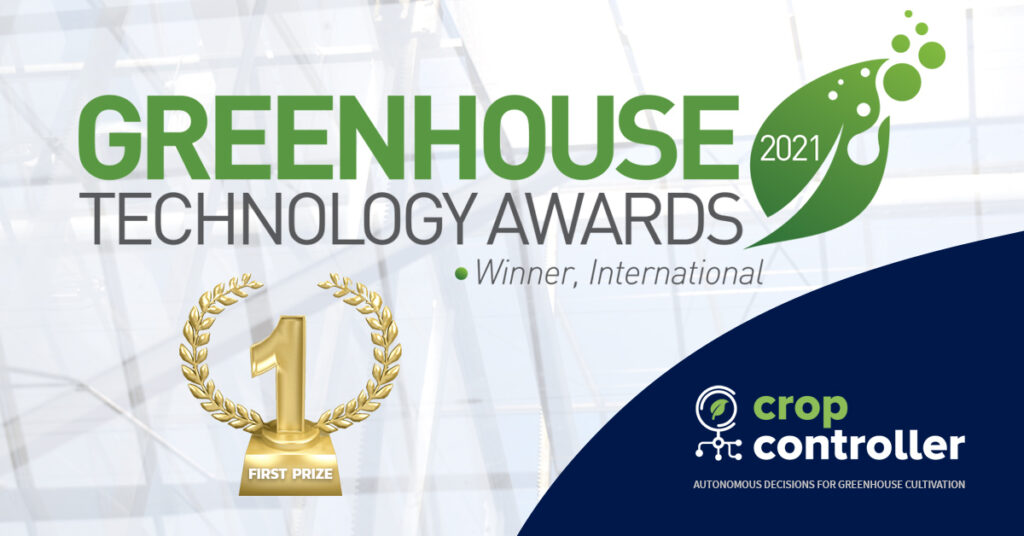 On October 4th the winners of the Greenhouse Technology Awards were announced in the show guide of the Canadian Greenhouse Conference (CGC). Debuting this year, the Greenhouse Technology Awards will be given annually to recognize technology demonstrating a high level of innovation in advancing the greenhouse and controlled environment agriculture sectors. Categories include production, pest management, marketing and international (non-Canadian) entries. Crop Controller by Blue Radix was announced winner in the international category. Crop Controller is a Dutch developed AI-solution for autonomous growing. Winners attend the CGC on October 7th to give a short presentation and answer questions.
Jury report Crop Controller
Judges were impressed by the use of AI to integrate all greenhouse data in one space to help the grower make analyses and decisions this way. They recognized the importance in easing the burden for growers managing many acres and filling the knowledge gap for incoming staff. Judges also noted the impressive track record with trialling of the Netherlands-based technology being conducted and finetuned with growers in Canada, as well as synergistic partnerships with industry stakeholders and suppliers. Read more on the winning areas in the show guide of the Canadian Greenhouse Conference.
Ronald Hoek, CEO of Blue Radix: "We are very happy and proud! Winning this award is a recognition of our work to make AI very practical and valuable in greenhouse operations. With Crop Controller we can help growers and greenhouse owners optimize results and make their operation scalable. Most importantly, our customers recognize this value. With Crop Controller greenhouse operations becomes future proof. Growers can manage more hectares and pay attention to other responsibilities without continuously having to worry about the greenhouse climate on a hourly or daily basis.
On behalf of the whole Blue Radix Team, I want to thank Greenhouse Canada Magazine and the Canadian Greenhouse Conference for making this award possible!"
Autonomous growing with Crop Controller
Crop Controller integrates all the data and advises on how to adjust the settings of greenhouse automation hardware to achieve and maintain optimal greenhouse conditions in the most cost-efficient way.

Multiple greenhouse growers in Canada and other parts of the globe attested the software's potential and are projected to manage a far greater area of production space while improving yields by at least four to 10 per cent and reducing operational costs by five per cent.
It's a service
AI delivers the most optimal value when it's smartly combined with the human touch. So, we combine Crop Controller with the support of an off-site Autonomous Greenhouse Manager. The Autonomous Greenhouse Manager helps the grower to get started with autonomous growing, continuously monitors the situation in the greenhouse and is there to proactively discuss ideas, results and improvements with the grower.
About Blue Radix
Blue Radix is an independent Dutch AI-tech specialist for the international greenhouse industry. Blue Radix creates solutions with artificial intelligence for daily decisions and actions in greenhouses. Greenhouses offer an efficient way to produce food and flowers in a sustainable manner. But the number of skilled people with expertise of growing crops in greenhouses is declining every year. This has direct and negative impact on yield, costs, continuity and product quality. Blue Radix offers solutions for these challenges: smart algorithms which optimize and steer climate, irrigation and energy continuously and autonomously, supported by off-site Autonomous Greenhouse Managers. Blue Radix offers growers a digital brain for their greenhouse.
——————
For media inquiries, please contact:

Blue Radix
Ronald Hoek
Chief Executive Officer
ronald.hoek@blue-radix.com
+31 6 55 89 20 77