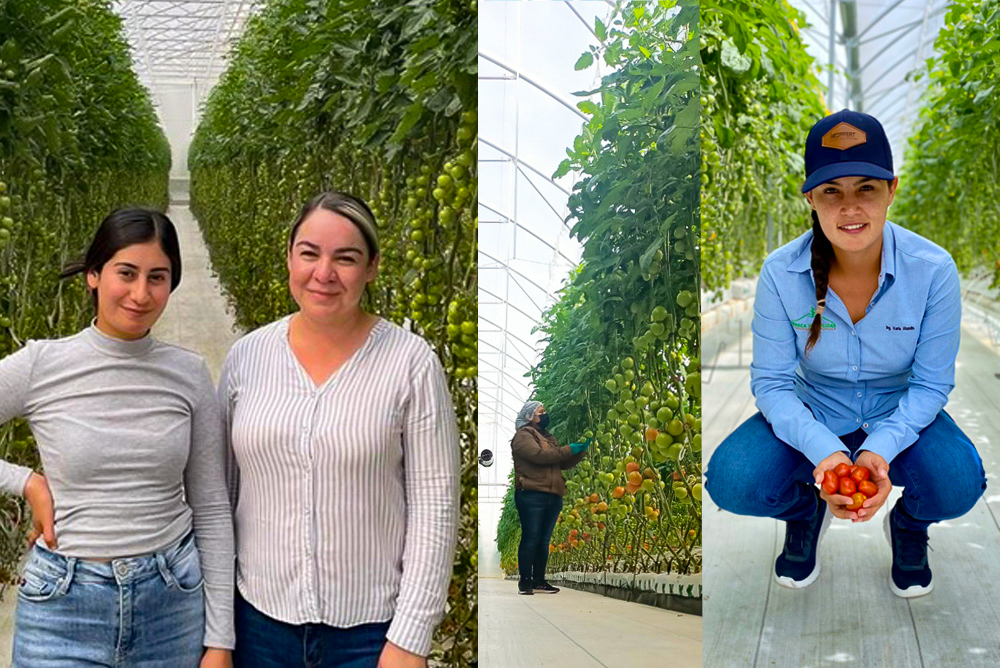 Haga clic aquí para leer el artículo en español – Folleto cultivo autónomo en español
Autonomous growing is an important development for the greenhouse industry in Mexico. The continuous expansion of companies requires qualified personnel to manage the facilities. With autonomous growing, the management of bigger sites per grower is a reality and it facilitates the best use of resources. Four Mexican growers from Mesa Grande, Sevaga and Bresca/Hortalizas tell about their experiences with autonomous growing and how they optimize and realize their unique crop strategy with Crop Controller by Blue Radix.
Ashly Flores (left) and Ana Gomez (right) on left photo are both growers at Sevaga, a Mexican tomato producing greenhouse company in the Aguascalientes area. They have been working with Crop Controller since December last year. Ana: "We wanted a system that continuously adjusts the greenhouse climate and the setpoints, without interference from someone who has to be available 24 hours a day. And it was very important for us that we could determine our own strategy. Our main goal is to save energy since our area has low temperatures in the winter reaching temperatures below zero degrees. That's why we started with Crop Controller, and I must say it's a very practical and understandable system. It's easy to use and we have had very good guidance from the start."
New way of working
Mesa Grande, a tomato producing company in the same area, also started with autonomous growing at the end of last year. Blanca Azucena Moreno Correa (middle photo), grower at Mesa Grande, states: "Like any beginning of a process, we started with a couple of information meetings to understand how Crop Controller works and gain insights how we have managed our greenhouse each cycle so we could structure our strategy. Learning the way in which the strategy varies at each moment is of the utmost importance. It's a new way of working as Crop Controller continuously and autonomously optimizes the set of climate conditions and variables to what our plants need."
Higher production, stronger plants
Karla Denisse Abundis (right photo), works at Bresca/Hortalizas, a tomato producing greenhouse company in Puebla, Mexico. The company that produces tomatoes for Mastronardi Sunset wants to achieve better control over daily operations and improve predictability and has been working with Crop Controller since July 2021. Karla: "The experience I have in working with Crop Controller has been very rewarding for my professional life and for the operation of the company. Implementing this technology in our greenhouse has given us the ideal conditions for the crop to express its greatest potential, having a stronger plant and higher production. Besides, it has helped us to reduce office time and has allowed me to focus on implementing improvements in our processes. Within the operation, it has facilitated the transition of climatic seasons for the crop, helping to avoid plant stress due to these changes.
On a personal level, it is very enriching to be among the first to introduce this cutting-edge technology in Mexico and to generate new knowledge and experience in the use of artificial intelligence. A technology that is changing the traditional way of controlling greenhouses."
Improved plant physiology
Blanca from Mesa Grande adds: "In my experience as a grower, Crop Controller has helped me to better understand what is needed for a better crop development, without demanding too much from the plants. It has helped us to manage decision making in a better way and to optimize our resources. Currently we have been able to observe an improvement in the physiology development of our crop, compared to the results recorded in previous cycles: from the colour in plant, growth, and plant size. We can now realize the ideal circumstances."
Ashley from Sevaga says working with this service is good. "We can optimize our energy and other resources in a more efficient way. We determine the target temperatures that need to be achieved and Crop Controller trains itself to carry them out. The outside weather conditions are changing right now, and we are curious for the results in the following months."
Reduced costs
Karla concludes with an advice for growers who have not started with autonomous growing yet. "Considering the results we have had in the company, I am convinced that it's a technology that is worth implementing, we have reduced costs by having a lower incidence of diseases and an increase in performance. This has benefited both those in charge of the operation and the owners, and this has been possible because of the openness to try new technologies."