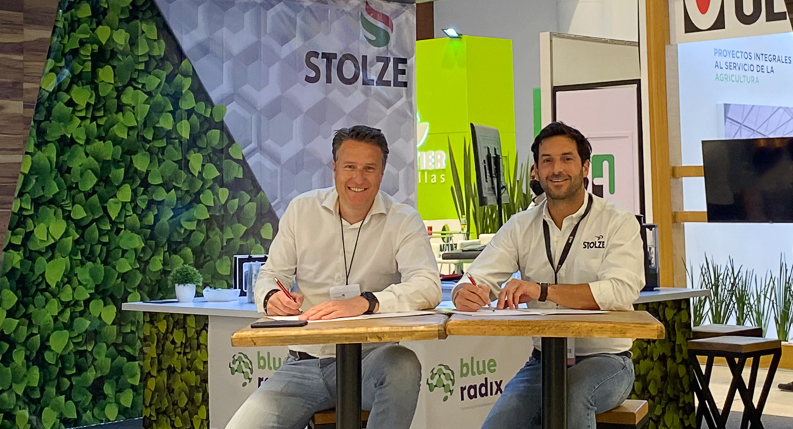 Click here for the article in Spanish – Haga clic aquí para ver el artículo en español
In July, Stolze Mexico and Blue Radix signed a distribution agreement for a long-term cooperation to bring Autonomous Growing to Mexican horticulture. Autonomous Growing is an important development for the whole greenhouse industry. The continuous expansion of companies in Mexico requires qualified growers to manage more and more hectares. This urges the need for smart AI-driven solutions. From 10-14 October a joint team of the companies will visit multiple growers in the regions Queretaro, Guanajuato and Bajio together. During the visit they'll give local vegetable growers detailed insights in the possibilities, the benefits and grower's experiences with Autonomous Growing.
Blue Radix is a specialist in Autonomous Growing and offers smart AI-driven technology for daily processes in greenhouses worldwide. Ronald Hoek, CEO and co-owner of Blue Radix states: "We are very thrilled about our cooperation with Stolze Mexico. The company has a strong network and has in depth knowledge about installations and conditions at greenhouses in Mexico. We have found in Stolze a very pro-active and forward-thinking distribution partner. Together we can offer new value to Mexican growers, fully aligned with their local demands. With Crop Controller, growers can realize their unique crop strategy and automate decisions and actions on climate, irrigation, and energy management. Blue Radix' service enables growers to manage up to 4 times more hectares, realize a higher profit and reduce the usage of resources. The combined strength of Stolze and Blue Radix assures Mexican growers to get the latest proven technology with the highest level of service."
AI undeniable part of greenhouse operations
Stolze Mexico is a specialist in the field of electrical and irrigation technology, grow light, automation, and climate technology. Fernando Alfaro, General Manager of Stolze Mexico: "We've been bringing new technology to the market since our company was locally founded in 2012. Growers know Stolze Mexico as their supplier and partner for all mission critical installations in their greenhouses. They expect us to move forward by adding solid new technology to our portfolio so growers can keep on improving operational results. AI-driven solutions will be a growing and undeniable part of greenhouse operations. Therefore, offering Autonomous Growing with Crop Controller to our customers and partners in Mexico is a logical step and is complementary in our portfolio. We already have seen its value in practice at greenhouses in Mexico and abroad, and are very enthusiastic to be Blue Radix partner in the region."
Autonomous growing in practice in Mexico
Manuel Valdes Lara, a tomato grower in the Puebla area, is one of the growers who has been working with Crop Controller for several months now. Manuel concludes: "The execution of Crop Controller is great! The AI-system is learning daily. In Mexico we have very specific weather conditions that we need to manage. The Blue Radix system can adapt to it, helping us achieving our goals, and making growers more efficient."
More information on Mexican visit or Autonomous Growing?
Ronald Hoek and Rudolf the Vetten, Chief Product Officer of Blue Radix, will be visiting the Queretaro, Guanajuato and Bajio area together with Fernando Alfaro from 10-14 October. Would you like them to visit your greenhouse as well or do you have questions? Please contact Fernando Alfaro via blueradix@stolze.com.mx or via mobile +52 462 107 8848.