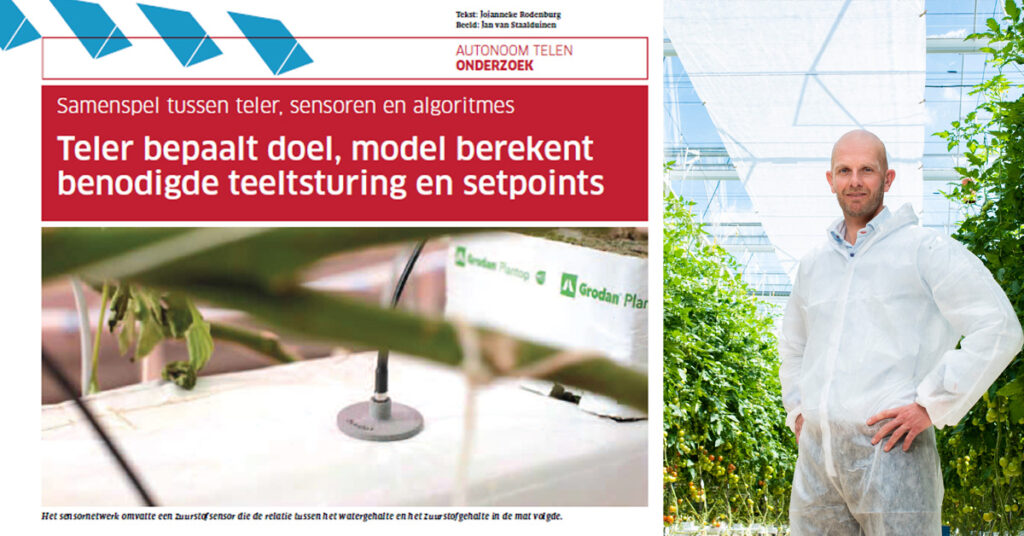 Collaboration between grower, sensors and algorithms
In the January edition of the Dutch Onder Glas magazine an article on the completion of the TKI project 'the road to digital green fingers'. Two seasons of research took place with an illuminated tomato crop (large trusses) in which first a sensor network was developed and eventually the climate was controlled with smart algorithms. This is an important development that will, in time, considerably increase the power of growers. In this article, Jan Hanemaaijer, Crop Advisor at Blue Radix, among others, talks more about his involvement and findings. Read the entire article via the link to the pdf of the article.
Read the whole article in Onder Glas here (Dutch only) In which also Alex van Klink, Project leader Delphy Improvement Centre, Max van den Hemel Cultivation Engineer at Delphy Digital and Laura Frijters of 2Grow speak.
© Onder Glas
Read the article previously published by Blue Radix about this project here:
These crop senors add value to autonomous growing
Blue Radix is continuing the research, but in a different format, testing very specifically the application of selected sensors in production environments in combination with autonomous growing.