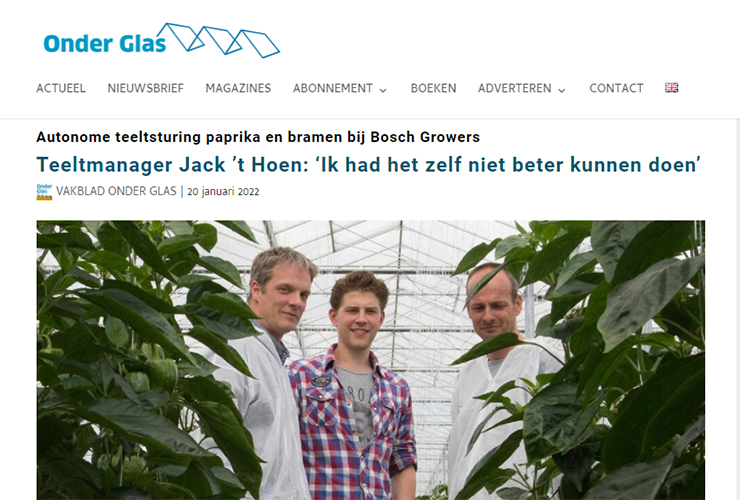 Autonomous growing of bell bell pepper and blackberry at Bosch Growers

In the newsletter and website of Dutch media 'Onder Glas', Crop Manager Jack 't Hoen of Bosch growers was interviewed about autonomous growing with Crop Controller.
Summary
Since last summer, Bosch Growers in Bleiswijk, the Netherlands, are controlling their cultivation in one department by autonomous growing software during the day. Jack tells that the algorithms work so well that today the switch was made to fully autonomous control 24/7. He has every confidence in it. "The results are continuously on the line that was set out. I couldn't have done better myself."
Jack tells that he initially was skeptical about the added value of autonomous control program, in this case Crop Controller from Blue Radix. But during the half year that the algorithms controlled the crop during the day, he saw that things were going well. It took no effort at all for Crop Controller to realize the growth line that had been programmed on the basis of the three previous cultivation years.
"So far, the software has performed as desired and we are ready for the next step," says the Crop Manager in the interview. As of January 20, the autonomous control program will take over 24/7. The two blackberry sections of 6,500 m2 each will follow in the near future."
You can read the whole interview on the website of Onder Glas (Dutch only).
Text and photo of Onder Glas