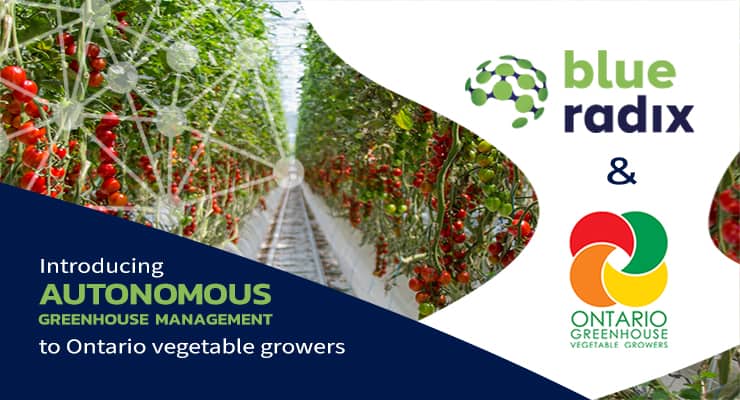 The Ontario government is supporting greenhouse growers by investing over $3.6 million in 12 innovative projects to help develop new technologies, recover from the impact of COVID-19 and enhance competitiveness and innovation. One of these approved projects is 'Autonomous Greenhouse Management'- a collaboration between the Ontario Greenhouse Vegetable Growers (OGVG) and Blue Radix, an independent Dutch AI-tech specialist for the international greenhouse industry. This project is supported through the Greenhouse Competitiveness and Innovation Initiative, a cost-share program funded by the Ontario Ministry of Agriculture, Food and Rural Affairs and delivered by the Agricultural Adaptation Council.

Autonomous growing with Crop Controller
"Together with OGVG we introduce autonomous growing with Crop Controller to Ontario vegetable growers," says Ronald Hoek, CEO of Blue Radix. "Crop Controller is a service: data models and algorithms control the greenhouse installations 24/7, supported by off-site Autonomous Greenhouse Managers with in-depth knowledge about crops, energy and data. With autonomous steering of the greenhouse installations, the crop strategy is put into practice with artificial intelligence. Crop Controller is not developed to replace growers. The grower is still needed to define the crop strategy. Ultimately, they can manage more hectares and worry less about repetitive actions and routine thinking. The algorithms do the work for them in their daily operations."

"We are very thankful to the Ontario government for the GCII funding of this project. It will help greenhouse businesses improve their productivity with adopting autonomous growing. Greenhouse owners are less dependent on crop experts, will have a higher operational profit while limiting their operational risks and usage of resources," says Ronald.
Main objectives project
The project looks to meet four main objectives:
1) To research the specific needs of Canadian growers (compared to Dutch growers) related to autonomous greenhouse management and translate these needs into product features.
2) To research and implement the adjustments that must be made to improve the match of Crop Controller with different Canadian (Ontario) climate conditions.
3) To demonstrate the working of the Blue Radix data models and algorithms. This helps growers to better understand the value and adopt this new technology in their company.
4) To share knowledge with market peers and help growers to work with this new technology in their day-to-day operations.
OGVG will select three vegetable greenhouse production locations across Ontario to participate in the project. During the project OGVG & Blue Radix will share information regularly about progress and results through articles, learn 'n' lunch sessions, presentations and online demos.
About the GCII program
The Greenhouse Competitiveness and Innovation Initiative is a cost-share program, to help the sector to create, adopt and invest in innovative new technologies to reduce production costs, increase productivity and improve produce quality. Enabling operations to expand their businesses, attract new investment and create good jobs. It is delivered by the Agriculture Adaptation Council, on behalf of the Ontario Ministry of Agriculture, Food and Rural Affairs (OMAFRA).
About OGVG
Ontario Greenhouse Vegetable Growers (OGVG) represents approximately 200 farmers responsible for over 3,200 acres of greenhouse tomatoes, peppers and cucumbers across the province. With farmgate sales of over $1 billion in 2019, support for over 13,000 jobs, a contribution of $1.8 billion to the economy and a consistent track record of growth, the sector is a valuable economic driver for the province.
About Blue Radix
Blue Radix is an independent Dutch AI-tech specialist for the international greenhouse industry. Blue Radix creates solutions with artificial intelligence for daily decisions and actions in greenhouses. Greenhouses offer an efficient way to produce food and flowers in a sustainable manner. But the number of skilled people with expertise of growing crops in greenhouses is declining every year. This has direct impact on yield, costs, continuity and product quality. Blue Radix offers solutions for these challenges: smart algorithms which optimize and steer climate, irrigation and energy continuously and autonomously, supported by off-site Autonomous Greenhouse Managers. Always working with the grower's unique crop strategy as a starting point. Blue Radix offers growers a digital brain for their greenhouse.
For media inquiries, please contact:

OGVG
Mr. Joseph Sbrocchi, General Manager
T 519-326-2604 or 1-800-265-6926
Email: j.sbrocchi@ontariogreenhouse.com
www.OGVG.com
Blue Radix
Mrs. Marijke van Rongen, Manager Global Marketing & Communications
T +31 6 53 43 38 39
E-mail: marijke.vanrongen@blue-radix.com
www.blue-radix.com