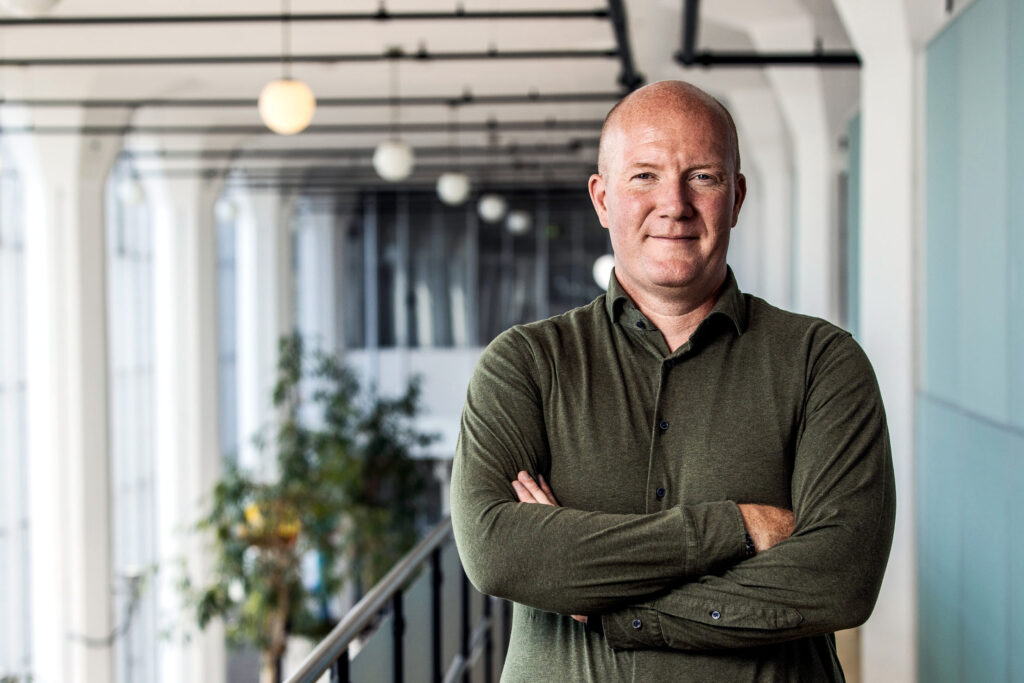 Many new AI technology, software and hardware solutions are providing a breakthrough in many aspects in the greenhouse sector. But how do you make a wise choice as a greenhouse owner or grower and what options do you have? What do you still want to manage in ownership yourself and what does this mean for connecting various technologies in the greenhouse? In this article, Laurens van der Spek, Chief Operations Officer at Blue Radix, tells us more about SaaS (Software-as-a-Service). What does it mean, how does it differ compared to purchasing software and/or hardware solutions and what does the future of SaaS in greenhouse horticulture look like?
What is SaaS?
Laurens: "SaaS has been around since about 2000 and has become an increasingly important part of our lives due to the development of the Internet, cell phones and Internet browsers. The abbreviation stands for Software-as-a-Service, and it's software that is offered as an online service. The user does not have to purchase the software and install it themselves but rather concludes a monthly contract, for example. The SaaS provider takes care of the setup, maintenance and management and the user accesses the software over the Internet through the SaaS provider. Some well-known examples are the use of Word and Excel via Office 365, but also the navigation software in your car. A few years ago this was installed locally in cars, resulting in the navigation quickly becoming outdated. With the current Internet-based navigation tools, this navigation continuously remains up to date, you can continue to use it and new features are automatically added. With the arrival of software services through the "cloud" (Internet), there has been a shift towards users choosing not to purchase software packages themselves and installing them locally, but instead taking out a subscription. Scalability, cost efficiency, ease and access anywhere to services and automatic updates are just a few reasons for this. Safety also plays an important role. Online threats may develop even faster than new functionalities. In the case of local software installations, you need to continuously update and adjust them accordingly. This requires a lot of attention and time. Through SaaS services this is arranged by the supplier."
Which SaaS examples can we already see in greenhouse horticulture?
"Examples of general online services are accounting and office programs, but also software programs such as MailChimp or Adobe," says Laurens. "Specifically for application in the greenhouse, there are various data platforms and/or apps that are offered as SaaS solutions. These are mainly online software services that analyze information and data from the greenhouse, interpret it and present the results clearly in a user-friendly dashboard. I can imagine that with the arrival of more robotics in the greenhouse, there are going to be SaaS solutions in combination with hardware, such as picking robots or sensors. Where the results and control will be presented online and the software updates or new releases of a picking robot, for example, will simply go through the cloud without the intervention of an installer."
"It is important that as a purchaser of SaaS services, you are well aware with whom you are doing business. Does the supplier have their security in order and what do they do with your data? Do they use the data for other purposes and what happens when you stop the service? These are questions you need to ask a supplier of a SaaS service in advance."
How does Blue Radix offer autonomous cultivation?
"Blue Radix also offers autonomous growing with Crop Controller as an online service (SaaS), and we have deliberately chosen this option. We operate worldwide so it is important for our service to be available to growers all over the world, without prior hardware installations. More importantly, growers have enough financial challenges; they must be able to grow autonomously without major investments. This is possible because we offer the service in subscription form which can be cancelled from month to month. In addition, autonomous growing is continuously evolving and new features and updates can be implemented quickly worldwide. The advantage of an online service is also that growers have insight into the way their installations are autonomously controlled in their greenhouse – from anywhere and at any time. In addition, integration with other online technologies is easier and can be done remotely. Blue Radix also invests heavily in the highest level of security for our technology, so the grower doesn't have to. And the data belongs to the growers, allowing them to maintain their own competitive position."
What are the main differences between SaaS and purchasing location-based software and hardware?
| | | |
| --- | --- | --- |
| | Software-as-a-Service (SaaS) | Location-based software and hardware |
| Set-up and maintenance | The SaaS provider is responsible for the software, hosting, security and maintenance. | Purchase, install, secure, maintain and update the software on your own systems incl. hardware maintenance. |
| Cost | Cancelable subscription, often monthly. Lower investment and risk. | Upfront costs for software and licenses, and possibly also for the hardware on which the software must run. |
| Accessibility | Through an internet browser 24/7 from any device anywhere in the world. | Locally available, with the right set up also remotely accessible. |
| System integration | Set up to integrate additional services or data sources as needed. | Often more complex to integrate various systems that are used side by side. |
| Scalability | New features, updates, extra users and/or locations can be added very quickly and easily. | It's important to scale up quickly in order to be able to respond to growth. Integration with other installations in the greenhouse is difficult. Hardware ages quickly. |
| Data storage | Cloud storage. Backup of data independent of local hardware. | Data (often) stored locally and depending on local hardware. |
| Security | The SaaS provider is responsible for the security and privacy of your data. Take a good look at this in advance: in terms, contracts and/or privacy and data policies. | You are responsible for the security and security updates of the software and your own servers. |
How do you see future development for SaaS in greenhouse horticulture?
Laurens: "At Blue Radix, we believe it is important for growers to always be free to choose what they want to do with their data and to benefit from the best services and products available for their greenhouse. I expect these to be more and more cloud-based services, which will be connected to each other. Very important here is that as suppliers of greenhouse solutions, we need to enable connections with other automated software or products. This way we will create an ecosystem in which we jointly take greenhouse horticulture to a higher level."