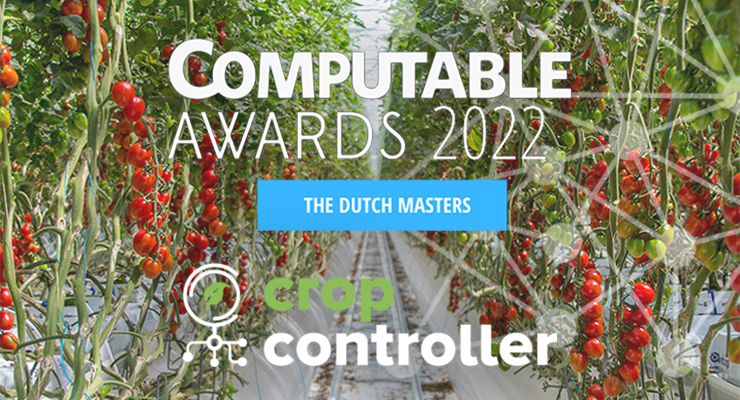 Computable, the platform for ICT professionals, will be presenting the Computable Awards for the seventeenth time in a row on 5 October 2022. We are proud to announce that Crop Controller has been nominated in the category best digital innovation – the only company with a nomination focused on innovation in greenhouse horticulture! Do you also want more recognition for the innovative power of greenhouse horticulture? Then vote for Crop Controller. How? Read on.

Laurens van der Spek, COO at Blue Radix and co-responsible for the IT domain: "We are delighted to have received this nomination! It's wonderful recognition for our team and our partners Outsystems and Microsoft. In recent years, we have elaborated our innovative Crop Controller service, which enables autonomous growing in greenhouses worldwide. This requires a secure, robust, and scalable IT landscape and creates the foundation for the optimal performance of our algorithms and service. Autonomous growing requires the highest level of quality and must operate constantly. The fact that we have achieved this and that this innovation in greenhouse horticulture has been seen and even recognized in the ICT market is a great mark of appreciation."
OutSystems and Microsoft are also included in our nomination. Crop Controller was developed from the low-code platform of OutSystems, with its own team of developers, where the algorithms run in a Microsoft Azure environment.
May we have your vote?
You can vote for us now; the online polling station closes on 11 September. Cast your vote here https://awards.computable.nl/stem/ (Dutch page). You will receive the link to the voting form by e-mail. Scroll to the Digital Innovation category and vote via a check mark on Crop Controller. You can only vote once.
This public vote makes up fifty percent of the total score, with the remaining fifty percent coming from the jury which will also consider the nominees in each category. On 5 October, the winners of each category will be selected in De Polar at Jaarbeurs Utrecht.
About Crop Controller & nomination
With Crop Controller, growers can control greenhouses autonomously: from a few compartments to dozens of hectares. Without new hardware or large investments, they can control up to 4 times more hectares per grower and achieve up to 10% more operational profit. In addition, growers receive support from an experienced Autonomous Greenhouse Manager. Autonomous growing is the solution to the shortage of global crop expertise in a growing greenhouse horticulture sector. In this way, we can continue to provide the increasing world population with healthy and sustainably grown food. Read more about our nomination here: Blue Radix scoort met Crop Controller (Dutch page).
About Computable
Computable is an independent website that focuses on ICT professionals and ICT managers working in the Netherlands with messages, backgrounds, and opinion articles about ICT. In addition, Computable publishes a magazine for ICT managers nine times a year.