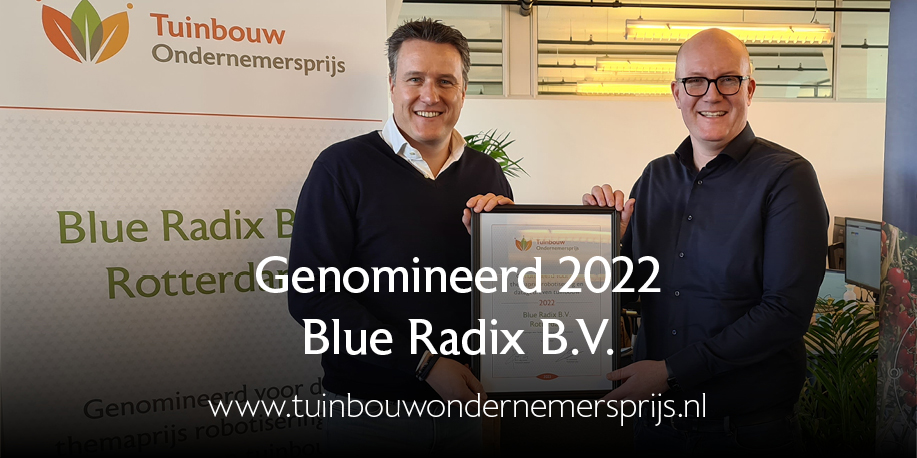 This morning we were pleasantly surprised with a visit at our office by jury president Rutger Lommerse of the Dutch Tuinbouw Ondernemersprijs (Horticultural Entrepreneur Award). He announced that Blue Radix is officially nominated for the Horticultural Entrepreneur Award 2022: namely the Theme award Robotization and Data-Driven Horticulture.
Jury report
"The jury is impressed by the information from the application and evaluates Blue Radix as one the industry's pearls. Blue Radix is front runner in the field of technology for autonomous climate management. The company was third in the first Autonomous Greenhouse Challenge of WUR in 2018 and was described as the one with the fastest applicable potential. They definitely have proven themselves in recent years by step-by-step developing their data driven technology. It's good to see they know how to reach international as well as national growers. Abroad the additional value of the solution is seen from the beginning because of the scarcity of local knowledge about growing. In the last year more and more Dutch growers are also involved in this development and want to implement Crop Controller in their production process so they can scale their company further."
Ronald Hoek, CEO of Blue Radix: "We are very happy with this nomination! It already feels like a recognition of our work to apply A.I. (artificial intelligence) very practically in operational processes in greenhouses. With Crop Controller we can really help growers and entrepreneurs to optimize results and make their business scalable. It is a great development that innovations in the field of A.I., algorithms and robotization are given extra attention with the Robotization & Data-driven Horticulture theme prize. With A.I. & Tech, we are making greenhouse horticulture even smarter."
The award ceremony will take place on April 21 at the Floriade in Almere, The Netherlands where Blue Radix will also be present as a participant. In total there are 8 nominated companies. 4 for the Horticulture Entrepreneur Award and 4 for the Theme Award Robotization & data-driven horticulture. More information about the awards? You can read it here.