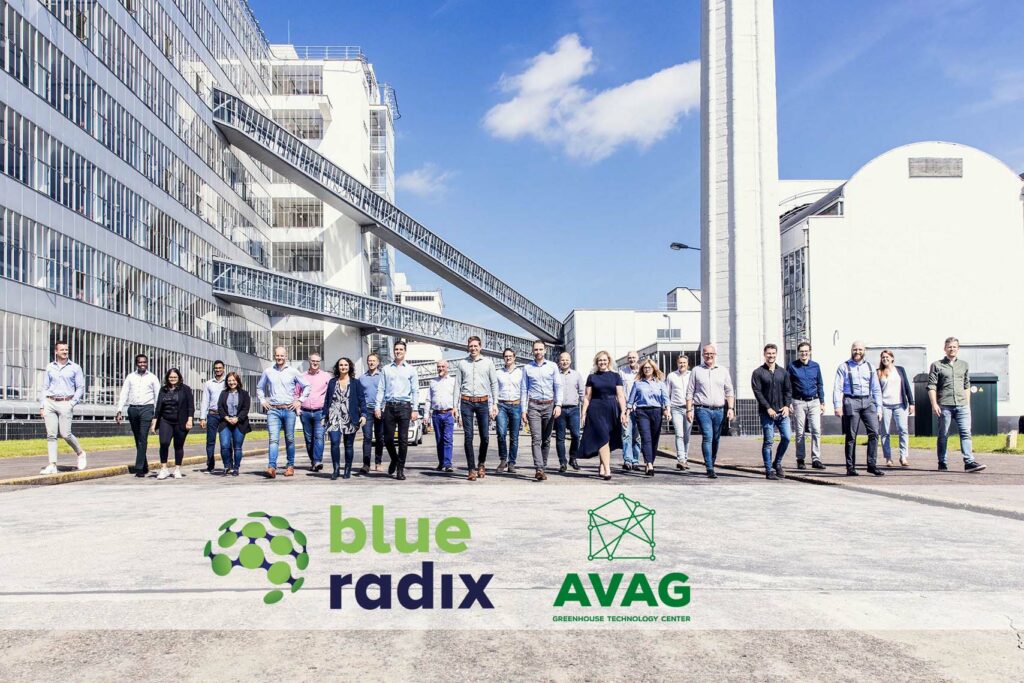 Press release | Naaldwijk, The Netherlands, 18 July 2023
Blue Radix is the market leader and specialist in autonomous growing and creates artificial intelligence (AI) for daily decisions and actions in greenhouses. Earlier this month, we became a member of AVAG, the industry association for the greenhouse technology sector in the Netherlands. Blue Radix is the 77th organization to join the association.
AVAG is proud to welcome Blue Radix as a member. "Blue Radix enhances AVAG's expertise and network in digital technologies and advanced solutions for the horticultural sector. AVAG is traditionally an association of greenhouse builders, installers and suppliers. In the market we see an increasing demand for digital services in the context of autonomous growing. Blue Radix has become a serious player in this field. In cooperation with other AVAG companies, total solutions can be offered. This fits in well with the needs of our customers. We are therefore delighted that Blue Radix has chosen to become a member of AVAG," says Annie van de Riet, president of AVAG.
"We are pleased to be a member of AVAG. I believe that we have a unique and complementary profile within the membership group," adds Ronald Hoek, CEO of Blue Radix. "Through AVAG, we aim to contribute to the growth of our sector and to building knowledge in the field of artificial intelligence. We are keen to work together with the other members to further strengthen the joint offering of Dutch greenhouse technology suppliers in the international arena."
"Blue Radix' mission is to enable growers to get the most out of their greenhouse data and to optimize their results with the help of artificial intelligence. Joining AVAG takes us another step closer to achieving that mission," he concludes.
About AVAG
AVAG is the leading industry association for greenhouse builders and greenhouse technology suppliers. AVAG supports its members based on strategic pillars including lobbying, quality, innovation, labour market developments, internationalization and sustainability. The aim of the association is to strengthen the Dutch horticultural sector by stimulating collaboration and innovation. AVAG-affiliated companies are committed to providing high-quality products, services and operations tailored to each specific market, crop and climate.
About Blue Radix
Blue Radix is the independent specialist and market leader in autonomous growing. The company creates automated intelligence for almost all daily decisions and actions in greenhouses. Due to the rapid growth of the world population, there is an increasing need for healthy and safe food. Greenhouse production is being scaled up around the world, but the declining number of experienced growers is a limiting factor. Blue Radix offers solutions to these global challenges: AI-based services that support growers with a 'digital brain' for their greenhouses. The Crop Controller service enables growers to manage significantly more hectares and increase yields while reducing costs. For more information check out our webpage on autonomous growing. Do you have questions please contact us here.