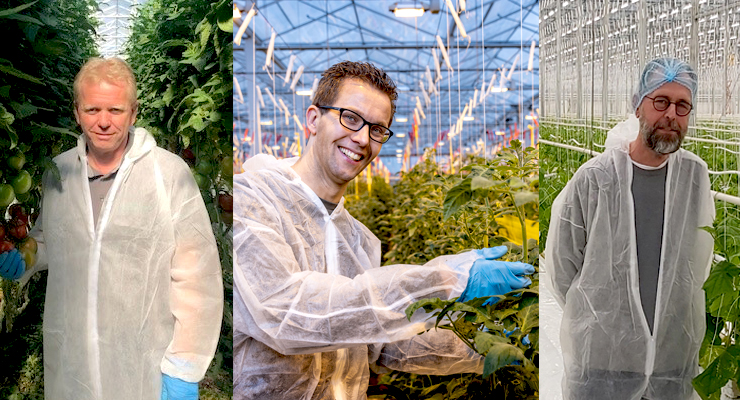 How do you react when new technology is introduced in your field of work? Autonomous Growing is about applying AI to control climate, irrigation, and energy management in greenhouses. Autonomous Growing is a rapidly developing new technology that positively impacts the daily work of an increasing number of growers, offering great opportunities to improve yield and reduce risks. To find out how Crop Consultants view these developments, Blue Radix interviewed three well-known Crop Consultants: Barend Löbker from Vortus, Poul Erik Lund from Grotek Consulting and Willem Valstar from StarGrow Consultancy, a member of Cropex. How do they see this new data era? And how does it affect their work?

What are currently the biggest challenges for your customers?
Barend (right on photo): "At the moment, it's all about energy costs. That's the number one challenge, although it varies in each country." Both Poul Erik (left on photo) and Willem (middle on photo) confirm this: "Customers are looking for ways to grow their crop with a lower energy usage. Customers are indicating more and more clearly how much energy the grower can use to manage the crop. That creates challenges. Overly high energy costs otherwise lead to loss-making products. Especially in the winter," adds Willem.
Labor, management of labor and the availability of good crop knowledge is a second big challenge for growers and greenhouse owners. Poul Erik mentions the lack of knowledge and experience he's observing. "The industry is getting smaller. The pool of experienced and skilled people is not as big as it used to be. When a grower leaves, that affects the continuity. The company immediately loses knowledge. And greenhouse companies are becoming larger. That means organizations must transform. They need to work on a different level, more professional. Especially, when it comes to labor management."
The third challenge is about growing, the core business, the core processes in a greenhouse. Willem and Barend both mention the importance of plant health and consistent pest management. Viruses demand a lot of attention and hygiene protocols. Barend: "This domain is tough, but it's largely within the influence of a grower. The other 2 challenges have a great impact on the results, but they're not typically resolved in the grower's domain alone."

"Ultimately, the biggest challenge for a grower is to avoid mistakes."

– Poul Erik Lund –

What's the value of data for your customers? And to what extent are they embracing data?
Willem: "Greenhouse companies are growing. Greenhouses are being built or companies are consolidating. This demands a more professional, structured, and more organized way of working. You can no longer only rely on the experience and knowledge of a few employees. Things must be more data driven, and conclusions must be substantiated with data." Poul Erik looks back: "We've been engaged in data driven growing for around 15 years. In a different way of course, and not detailed enough, but we had our registrations, our Excel files." Barend recognizes this and mentions that many companies do have their own registration forms. It's difficult to build a good tool yourself, as a grower. And a lot of human effort and discipline is necessary to make it work. This is not future proof."
What is unique about Autonomous Growing? And how do you evaluate its development?
The 3 Crop Consultants agree on this: Autonomous Growing is not the same as data driven growing. Poul Erik: "Data driven growing is about registration, about looking back and finding confirmation in the past. Learning from graphs and tables which show the past and trying to learn from it. But it's always reactive. It should be more pro-active, more forward looking. Ultimately, the biggest challenge for a grower is to avoid mistakes. That makes a big difference in yield and profitability. Autonomous Growing can do exactly that. It takes over the analytics, the intensive optimizations, calculates setpoints and executes, beyond human capabilities." Willem confirms: "By reducing mistakes, I feel Autonomous Growing is making a huge difference. It helps growers reduce the unnecessary mistakes that are being made daily. Today, we see a decline in plant health and quality too late. That costs the greenhouse owner money! Algorithms run 24×7 and are always on, which is a big advantage of this technology. Reducing mistakes immediately has a positive impact on profit. Barend: "The grower who makes the fewest mistakes has the best results." Willem sees additional value: "Besides this, Autonomous Growing helps us obtain more detailed insights into ways to optimize the crop recipes and strategies for our customers. The grower can finetune the strategy and work on a more tactical and strategical level, while such a system takes care of the execution. This helps the grower become more effective and manage more hectares," says Willem.
"If we do not move forward with Autonomous Growing, the industry will find its limits."

– Barend Löbker –
What does Autonomous Growing mean for your role as a Crop Consultant?
Poul Erik sees the opportunity to work with the grower on a different level. "Now, we have more time to discuss the strategy, the longer term, the plant. Rather than the settings in the climate computer, which is still too time consuming and error prone. The grower and I can focus more on the right lighting strategy or the pruning strategy for tomatoes, for example. And I get more insights from a distance, so I don't have to travel as much as I've done in the last few years." Willem agrees: "It helps us work on growing concepts. It supports the growers and gives them more time to improve the whole way of working. They can oversee more hectares. Barend concludes: "It definitely doesn't replace growers or consultants. It helps them achieve more. And we want to contribute to this development for the benefit of our customers."
"Autonomous Growing helps us obtain more detailed insights into ways to optimize the crop recipes and strategies for our customers."

– Willem Valstar –
Background Crop Consultants
Poul Erik Lund | co-owner of Grotek Consulting
Poul Erik has been a co-owner of Grotek Consulting for 10 years. He is mainly a tomato advisor working in Scandinavia, Poland, Denmark, and Latvia. Before being a Crop Consultant, Poul Erik was Head Grower and Production Manager for Alfred Pedersen & Søn, working at the locations in Denmark and Sweden.

Willem Valstar | owner of Stargrow Consultancy, member of Cropex
Willem is an international tomato and eggplant consultant. He is a member of Cropex, a group of 15 independently working crop advisors, who share market information and knowledge. He works mainly within the Benelux region but has also customers further afield. Willem mainly focuses on the bigger, forward looking greenhouse companies.

Barend Löbker | director and owner of Vortus
Vortus has a team of 10 advisors who cover all the bigger vegetable crops and lettuce. The consultants of Vortus operate in the Netherlands, Germany, broader Europe, and North America. This year, the company celebrates its 40th birthday, and is proud to be at the forefront of new developments in the greenhouse industry.