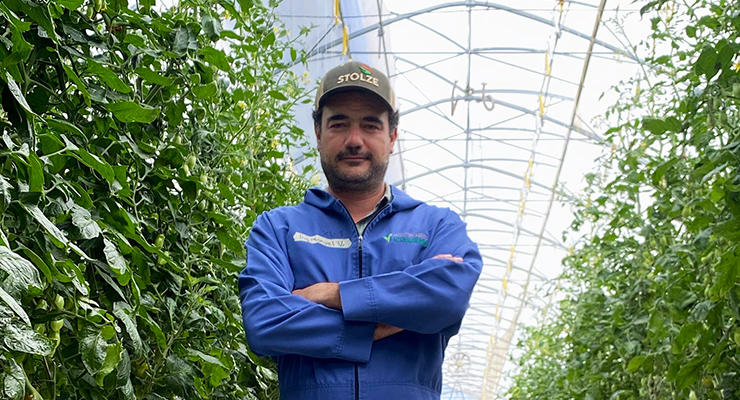 Bresca, a tomato producing greenhouse company in Puebla, Mexico, uses Crop Controller to realize autonomous growing. The company that produces tomatoes for Mastronardi Sunset wants to achieve better control over daily operations and improve predictability. The grower sets the goals while the Artificial Intelligence (AI) system, developed by Blue Radix, looks after the climate management. Autonomously, 24/7. Manuel Valdes Lara, partner at the greenhouse company, talks about his experiences and how the AI system adapts to the specific weather conditions in Mexico.
"Modern days are more challenging than ever, and we need to be at the vanguard to keep growing whilst optimizing all the resources. Autonomous growing is an excellent solution to help our growers achieve the best results," says Manuel, partner at the Mexican company that produces tomatoes for Mastronardi Sunset in North America.
Manuel proceeds: "With autonomous growing by Crop Controller, I expected to get a reliable tool to help me with production and give me more control over the climate in the greenhouse. I am delighted because the Blue Radix team provided great support, listening and responding to our challenges and local problems. As a starting point, we translated our specific growing strategy into algorithms, which manage the execution.
And the execution is great! The AI system continues to learn every day. In Mexico, we have very specific weather conditions that we need to manage with various non-traditional strategies. The Blue Radix system adapts, helping us achieve our goals, not changing the strategies but making them more efficient. Incidentally, Crop Controller is a complement for every grower, not a supplement."
Manuel: "For Bresca, as a tomato producing company, we actively search for better climate conditions for the crop, improving the greenhouse operations. Working with Crop Controller is like having someone adjusting the climate settings in the climate computer every 5 minutes 24/7, so that we can save energy and avoid the risk of potential diseases.
It's an important development for the whole greenhouse industry in Mexico as well. The continuous expansion of companies requires qualified personnel to manage the new facilities. With autonomous growing, the management of bigger sites per grower is a reality and facilitates the best use of resources and optimization of the infrastructure.
I expect AI-driven solutions to be continuously developed and improved, so that we can rely even more on autonomous processes and enhanced data-driven strategies. Using more and more data, which can be quickly analyzed, can help us as growers to optimize our crop strategies even further. Besides working with Crop Controller, I would personally embrace cooperation with other greenhouses to create a network of data, so that we can gather more insights to achieve better results together."
Manuel concludes: "We've had excellent guidance from the Autonomous Greenhouse Manager at Blue Radix. With a personnel onboarding program, he has steered is towards fully autonomous growing, continuously monitors the situation in the greenhouse and is there to proactively discuss ideas, results, and improvements. This kind of service is unique and gave us extra support throughout the process. I was very positively surprised by their way of working and the value of the AI system. We could literally take our hands off the steering wheel and let Crop Controller execute our crop strategy."
More information?
Do you want to know how autonomous growing with Crop Controller can help you with your greenhouse challenges or do you have any questions? Don't hesitate and contact us. We'll be happy to give you detailed insights!